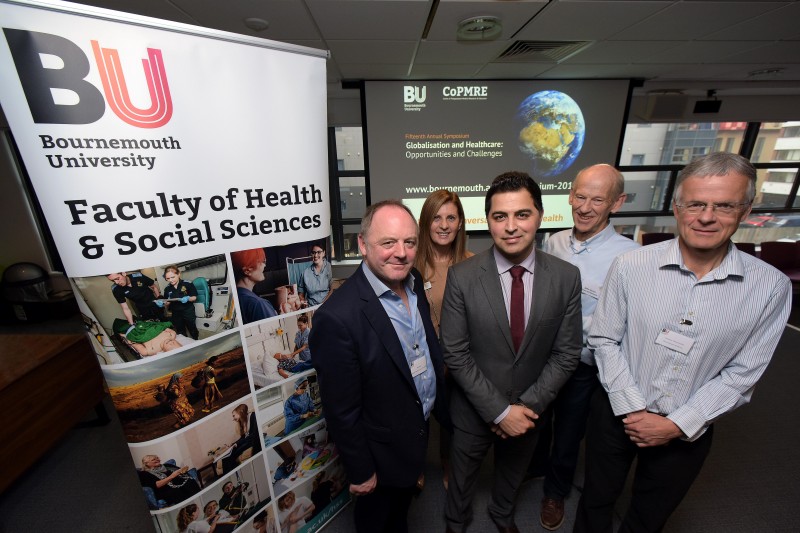 The annual Centre of Postgraduate Medical Research & Education (CoPMRE) event, now in its fifteenth year, saw speakers welcomed by BU's Deputy Vice Chancellor Professor Tim McIntyre Bhatti, before Tropical Health Education Trust (THET) CEO Ben Simms, began his keynote address which looked at forging key partnerships in healthcare.Dr Waheen Arian, whose charitable trust, TeleHEAL, helps advise medics in Afghanistan, presented on healthcare challenges in developing countries, with John Acres then presenting on the Wessex Global Health Network.
Professor Rob Middleton, Head of the Orthopaedic Research Institute at BU who presented a 20 minute case study examining the effects of global hubs, said: "This is a great opportunity to see what else is going on in the university and how it's interacting with the rest of the world, so we've had some great talks so far but particularly by the use of technology. Even being on the other side of the world, there is no reason why we can't share learning and experiences in research.
"From ORI's point of view we can show others what we are doing and they can interact with us but also, we can see what they are doing as well, and I'm sure that often after meetings like this it stimulates joint projects, so it's been a great day."
Audrey Dixon, CoPMRE Manager at BU's Centre of Postgraduate Medical Research & Education, said: "The overarching idea of the conference is to explore what a health and social care system can learn from abroad and what we here can contribute to overseas systems.
"This may bring research, educational and commercial opportunities for BU & partners along societal benefits. We've had two amazing keynote speakers:  Ben Simms, CEO of THET who spoke about policies and how to forge strategic partnerships, and Barb Jacobson, Co-ordinator of Basic Income Earth Network (BIEN) who talked and debated about whether Universal Basic Income could be a game changer for healthcare worldwide."
To read more about CoPMRE, visit: www.bournemouth.ac.uk/symposium-2018