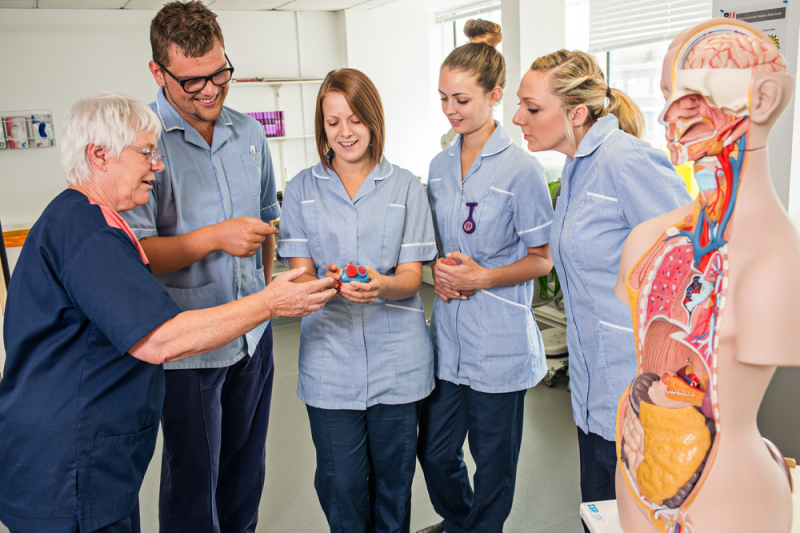 A new nursing associate apprenticeship to boost care industry professionals being trained in Bournemouth has been launched by Bournemouth University (BU), in partnership with Bournemouth & Poole College.
Applications are now open for the first intake of nursing associate foundation degree as part of the apprenticeship level 5 starting in February 2019. Students on the fully-funded course will be taught how to work within a support role to deliver effective, safe and responsive nursing care in a range of settings including hospitals, care homes and hospices.
Dr Ian Donaldson, acting head of department for Nursing and Clinical Sciences at Bournemouth University, said: "We are really pleased to be working with Bournemouth & Poole College to offer this new course which will enable even more people from across the south to pursue a career in healthcare in Dorset."
The apprenticeship will combine studying at Bournemouth & Poole College with practical placements to enable students to learn while they earn. It is open to those who already have a relevant Level 3 qualification and are working in the health and social care sector. Apprentices will study units of the foundation degree which also meets requirements of the Apprenticeship Standard, HEE Curriculum Framework and the NMC Standards of proficiency.
Study modules include professional values and parameters of practice, duty of care, candour, equality and diversity, delivering nursing care and person centred approaches to care. The foundation degree nursing associate level  5 is delivered by Bournemouth & Poole College and is validated by Bournemouth University and is part of the Apprenticeship Standard for Nursing Associate.
Following successful completion of the two-year course, students are eligible to secure a band 4 job role, and can consider progressing to the BSc Adult Nursing or the Nursing Degree Apprenticeship at BU.
Diane Grannell, principal of Bournemouth & Poole College, said: "We are really proud to offer this new nursing associate course, which will be a boost for students and businesses across Dorset and Hampshire within the health and social care industry. We are hoping that this will go some way to bridging the gap of the current NHS nursing shortage especially for people looking to progress in their careers within the care industry."
To read more about studying BSc Adult Nursing at BU, please visit: https://www1.bournemouth.ac.uk/study/courses/bsc-hons-adult-nursing