Former heavyweight boxer Frank Bruno MBE joined over 400 graduates from Bournemouth University's Faculty of Management as BU's 2018 graduation ceremonies began.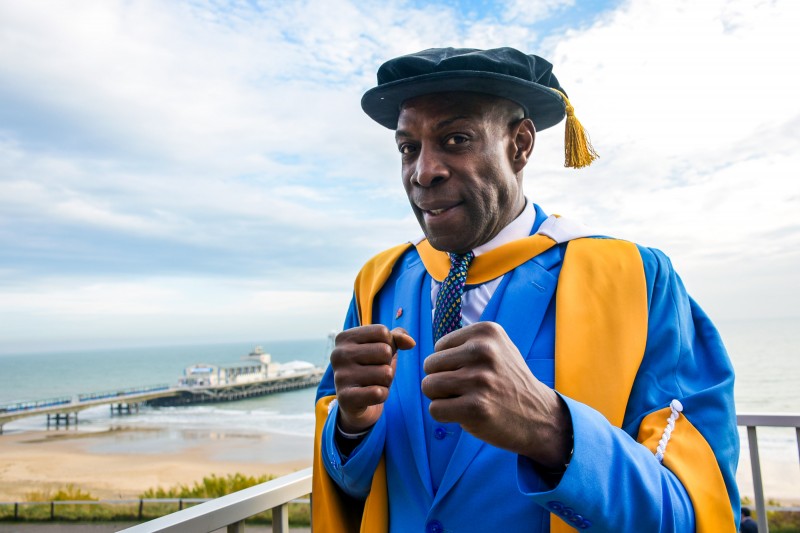 Frank Bruno
Frank, who received a Doctor of Arts for his work raising awareness of mental health, said: "Thank you to Bournemouth University and the people who put my name forward -  it's very, very touching.
"I don't think you can go to a better place than Bournemouth University. I think they're up to date, hi-tech, and they're really on point with helping people with mental health."
Also receiving an Honorary Doctorate was Ann Abraham; formerly a Chief Executive of the National Association of Citizens and Advice Bureaux, and Parliamentary and Health Ombudsman, Ann has also been a key figure in health services around Bournemouth.
Ann Abraham
Ann, who worked closely with Bournemouth University during her time as chairman of Dorset Healthcare University NHS Trust, received a Doctor of Business Administration.
She said: "It's a great honour in any context but particularly because it's my local university I think that makes it very special.
"I've worked at various levels with the Vice-Chancellor and with a number of people in the various faculties to put a strategy document together, we worked very closely on health and social care and the development of how the Trust and the university were going to achieve the best outcomes in education and practice."
They joined over 400 graduates from BU's Faculty of Management in the first of the 2018 graduation ceremonies taking place at Bournemouth International Centre.
Around 4,000 students will graduate from BU in seven ceremonies at the BIC running from Monday 5 - Friday 9 November.
As well as around 1,500 guests watching Monday's ceremony at the BIC, there were also people from as far afield as Australia, Vietnam, and Lebanon watching the live stream of the event. 
Faculty of Management graduation 2018