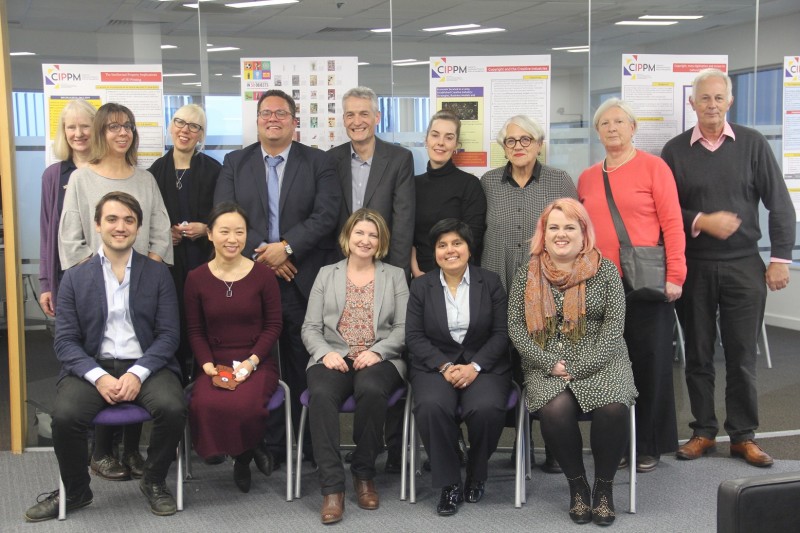 The CIPPM have received a prestigious award to set up a Jean Monnet Centre of Excellence at BU. Image (L – R): CIPPM Faculty
BU's Centre for Intellectual Property Policy & Management (CIPPM) has been awarded a three year grant to set up a Jean Monnet Centre of Excellence on 'European Intellectual Property and Information Rights', funded by the Europeans Commission's Education, Audiovisual and Culture Executive Agency (EACEA) under the Erasmus+ Programme.
The Jean Monnet award is intended to promote studies on various aspects of European integration, by leading research activities, develop curricula and exchange experience within and beyond academia.
"The award is recognition of the excellence achieved by CIPPM over many years of research and teaching in the field of intellectual property law," says Professor Maurizio Borghi, Director of the CIPPM. "It particularly highlights that the Centre has achieved an international standing in this field, as one of the influential academic voices in the European policy making."
The Jean Monnet Centre of Excellence at Bournemouth University will be amongst only a select number of centres in the UK, including Edinburgh, Queen's University of Belfast and King's College London, demonstrating the importance of contributing British academia to European studies. This will bring together high-level experts from Jean Monnet Centres across the world to create links between the various disciplines and resources in European studies and with academic institutions in other countries.
"Being one of these Centres is particularly significant in present times, as key achievements in European integration are at risk of being lost due to inconsiderate political decisions," explains Professor Borghi.
The centre leverages on a strong background of research on legal and policy aspects of copyright, new technologies, cultural industries and memory institutions. Alongside CIPPM faculty members, the Jean Monnet Centre of Excellence will involve prominent researchers from other UK and overseas institutions who will contribute towards specific projects.
"For example, one of these projects will address the implications of the use of artificial intelligence in detecting online copyright infringements and will involve collaboration with colleagues from computer science," says Professor Borghi.
 Since the Centre's establishment in the early 2000s, the distinctive feature of CIPPM within the UK academic landscape has been the close connection between cutting-edge research and education to professional practice. With the Centre of Excellence, their aim is now to give support, visibility and enhanced impact to a series of CIPPM activities in crucial areas of European integration and law-making such as copyright and related rights, industrial property, privacy, data protection, freedom of express and access to information.
These activities will include teaching, research and events such as delivering undergraduate and postgraduate programmes addressed to professionals, industry, creators, non-law students and cultural institutions; implementing collaborative research projects with overseas institutions on subjects of legal regulation of big data, artificial intelligence, mass digitization and fundamental users' rights; and hosting conferences, workshops and seminars targeted to academics, policymakers and civil society.
"We also aim to introduce a European Patent Litigation Course (Post Graduate Diploma), which will be a qualifying degree for patent attorneys willing to represent clients in the Unified Patent Court, one of the major achievements of European integration, and it is expected to enter into force in the next years," continues Professor Borghi.
For more information, please contact Professor Maurizio Borghi or visit the Centre for Intellectual Property Policy & Management website.