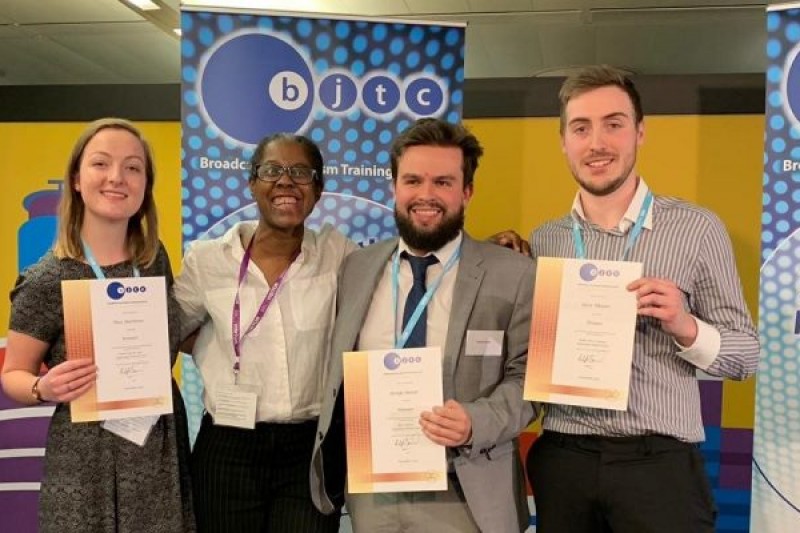 The Broadcast Journalism Training Council represents over 3,500 students but Bournemouth University received the most awards yesterday at MediaCity in Salford.
Thea Matthews, George Sharpe and Dave Wheeler have been honoured by the Broadcast Journalism Training Council (BJTC); the organisation that ensures universities are producing graduates, ready to start work for the likes of the BBC and Sky News straight away.
Last year's MA Multimedia Journalism student, Thea Matthews, won website of the year with her interactive documentary, 'Poverty, pregnancy and patriarchy', on the lives of Tanzanian woman. Judges said Thea's work was "a remarkable exploration of an emotional issue" which was well-researched and executed. Thea said: "I'm absolutely delighted to win Best Website at the awards…and equally proud of the runner-up award I received as Data Editor of our investigation into sexual assaults at university."
George Sharpe received the Best Podcast award for Bournemouth, with his work 'My Husband's Secret Addiction' on addiction, porn and family. He said: "As someone with ADHD, academic achievement has never been my forte but against all odds I've fought to become the first person to win the Best Podcast award." Judges commended George for "scripting that carries the listener along the journey and production that enhances the backstory".
Dave Wheeler took first prize in the Best Radio Feature category with 'When I lost my sister' on bereavement and grieving. He said: "I'm so thankful that my hard work has paid off in that regard and I can say that I'm an award-winning journalist right at the start of my career which is an amazing feeling." Judges said: "It was a difficult subject tackled with real skill and confidence making for compelling radio."
The judges praised the quality of the team work, collaboration and industry-standard multi-platform journalism produced by Bournemouth University. Lynda Smith, Programme Leader for the MA Multimedia Journalism course, said:"I am extremely proud of our students' achievements and thrilled beyond words at how they dominated this event, receiving more nominations than any other university accredited by the BJTC."