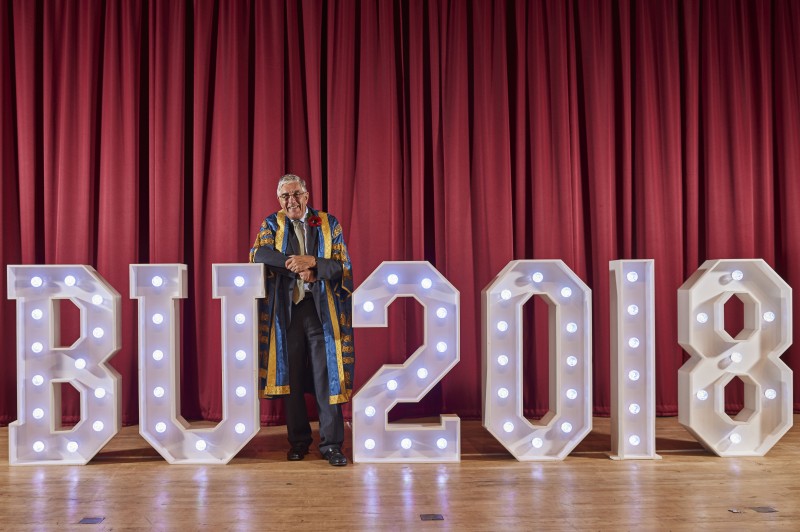 Former President of the Supreme Court, Lord Phillips of Worth Matravers presided over his final Bournemouth University Graduation Ceremony in November and formally completed his duties as Chancellor of Bournemouth University in December 2018.
Having served as Chancellor for more than a decade, the Law Lord expressed pride in the work of BU staff, students and graduates, and voiced his view over challenges facing the next generation of leaders in both business and governance.
Lord Phillips said: Looking back, it doesn't even seem that I've been doing it for five years, let alone 10, but there have been some astonishing physical changes, and not just physical changes but cultural changes as well - if you go and walk around [Bournemouth University] now, looking at the Talbot Campus in particular, it is absolutely astonishing. I've topped out a couple of these buildings and each time I've looked around the campus and hardly recognised it."
He added: "I think that the development of Bournemouth University has gone hand-in-hand with its development as a centre of excellence in teaching and research. I think we are turning out people who are quite well-fitted to meet the challenge and Bournemouth has always been at the forefront of making sure that the people who come here leave the university well-qualified to get a good job."
Lord Phillips has been chancellor amidst a raft of change at the university, with the adoption of a new seven-year strategic plan, BU2025, in 2018, and the construction of a series of new buildings, the Student Centre in 2015, the Fusion Building in 2016, and most recently, the new Gateway Building on Talbot Campus, which is destined to be completed in late 2019.
Formerly the highest judge in England until his retirement in 2012, Lord Phillips has welcomed the appointment of distinguished broadcaster, writer and former BBC Chief News Correspondent Kate Adie MBE to the role of Chancellor when she attended a BU Graduation Ceremony at the Bournemouth International Centre.
Commenting on succeeding Lord Phillips as BU Chancellor, Kate Adie said: "I'm following in the footsteps of someone whom I hope will not mind if I describe him as a very wise owl. I come from the profession of journalism and broadcasting so can make a claim to being an inquisitive carrier pigeon. It's an honour to follow such a distinguished chancellor and I can only hope that I should be able to follow his example and be a credit to this university."
Professor John Vinney, Vice-Chancellor at BU, said: "Lord Phillips has been a consistent voice of encouragement and support for BU during his 10 years as our Chancellor, which has been a time of major growth and development for the university. We are grateful for his energy, commitment and enthusiasm."