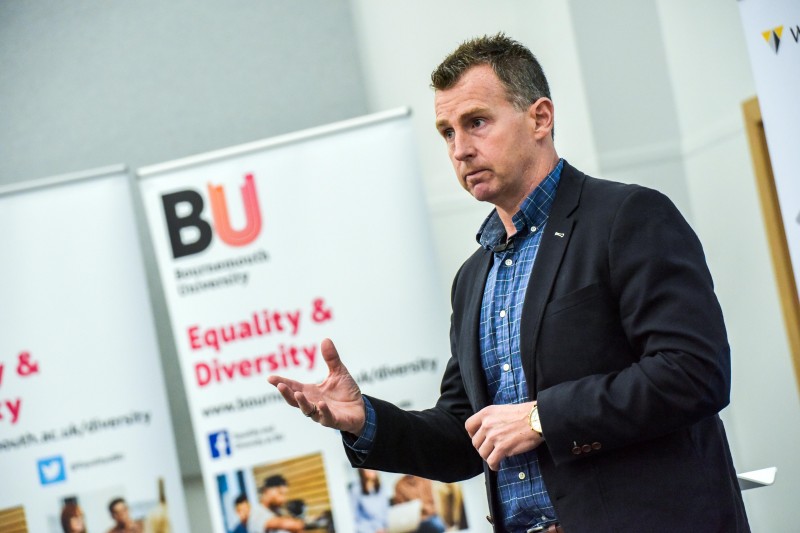 Welsh rugby referee Nigel Owens has visited Bournemouth University (BU) to talk about his experiences as a gay man in rugby, as well as the challenges he faced by keeping his sexuality secret. The Welshman and world record holder for most rugby test matches refereed, came out as gay in 2007, and is the most capped referee in the Rugby Football Union (RFU).
Famed for his authoritative style and sensible mediation between feuding players at some of the biggest tournament fixtures in the world, Nigel spoke to an audience of guests at BU's Talbot campus. Nigel, who began his coaching career in 1987, also toured an exhibition of local charities and organisations including Dorset Mind and Dorset Fire and Rescue Service.
Speaking about his life in the hyper-masculine sport of men's rugby and visit to BU, Nigel said: "Well, I haven't come here to study! I've never been to university at all, so I've come to do a talk on a bit of everything really, on my own experiences in life and dealing with some difficult times, dealing with adversity, dealing with mental health issues and inclusion as a gay man, as well."
"It was a bit of a catch 22 in one sense – rugby would help me a lot in getting away from those issues; on that Saturday afternoon when I used to referee, there were no worries. It also, in a period of time, hindered me in accepting who I was, and probably contributed to those dark times in being scared of what people might say in the macho world of rugby."
Nigel described his experiences growing up in a rural Welsh village, where he considered the prospect of chemical castration in order not to confront his sexuality, and also narrowly escaped a harrowing suicide attempt after being located by a police helicopter.
BU's Equality and Diversity Advisor and event organiser, James Palfreman-Kay, said: "It was really enlightening to hear about Nigel's experiences both on and off the pitch. We were also really proud to introduce him to a group of young people who have helped to create our #LifeUnfiltered campaign, which aims to view mental health through the eyes of a young person."
He added: "Nigel has such a unique status within rugby, and I think that having our staff and students hear about how even legends can struggle with challenges in their lives is something that we can all take away and learn from."
Nigel's talk forms part of BU's commitment to Equality and Diversity, with a range of talks, workshops, advice and schemes in action across the organisation aimed at overcoming challenges, strengthening equality and diversity, and ensuring accessibility.
To read more about BU's Equality and Diversity work, click here.