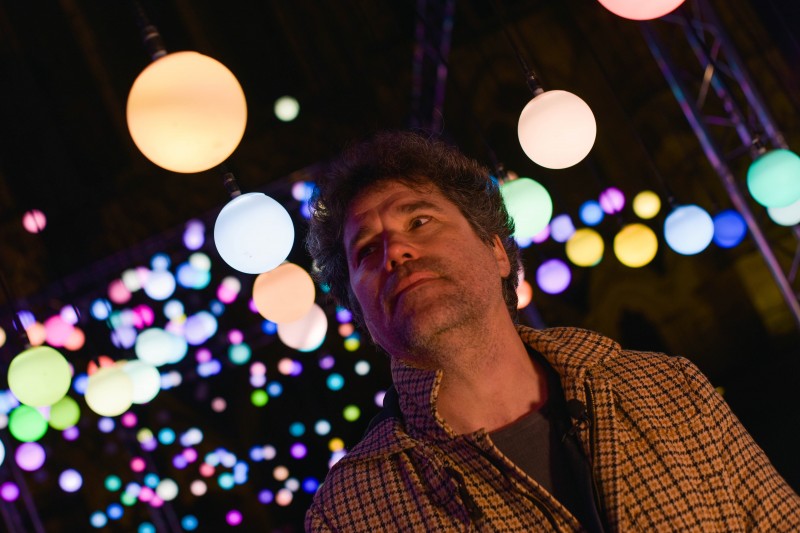 BU Senior Lecturer in Digital Media Design, Liam Birtles, has created an immersive light artwork at Salisbury Cathedral, designed to capture the imaginations of visitors and drive tourism to the city.
Waves, a light installation consisting of 500 light spheres or 'digital pixels', illuminates the west front entrance of the cathedral on the West Walk, offering visitors an immersive digital experience.
As members of the public walk through the 20-metre installation, they are drawn into a range of audio-visual contexts, from choral sounds to arpeggiating rhythms, and light fades to sequential light formations.
The installation has been commissioned by Salisbury Cathedral as part of its advent celebrations, From Darkness to Light. Salisbury Cathedral's Visual Arts Advisor Jacquiline Creswell said: "Salisbury has had a bit of a year in 2018 with the Novichok incidents, and the cathedral felt that it would be really lovely to stretch over the wall to our community to create some light installations to end a dark year on a light note.
"I've worked with Squidsoup before at the cathedral in 2015 and this year they've created this wonderful immersive light installation which has been hugely popular to visitors to the cathedral. In the first ten days we had tens of thousands of people walking through it which was wonderful."
Waves has been created by Liam's light art collective, Squidsoup, alongside members BU graduate Ashley Wilkie, Anthony Rowe, Dan Pearson and Ollie Bown. Liam said: "If you think back through the history of arts and media, art is the place where people explore technologies in order to express the experience of being human – it's a philosophical perspective."
"Squidsoup is a group of artists who specialise in creating immersive digital artworks. Each of the digital pixels has a behaviour which develops and leads to an emergent artwork so what you see is a visual whole and experience – this emerges from the behaviours of all of these individual units together."
The work forms part of a series of installations around light art, with a neon scripture-inspired piece on display above the North Porch Gates, and Lumen by David Ogle at the Cloister Garth, consisting of five three metre high tree-like structures that form a luminous canopy of interlocking neon branches.
Waves will be leaving the Cathedral on Sunday 3 February, after which Squidsoup will be exhibiting an installation at Southampton's Festival of Light from Friday 15 February at The Esplanade, Westquay South.