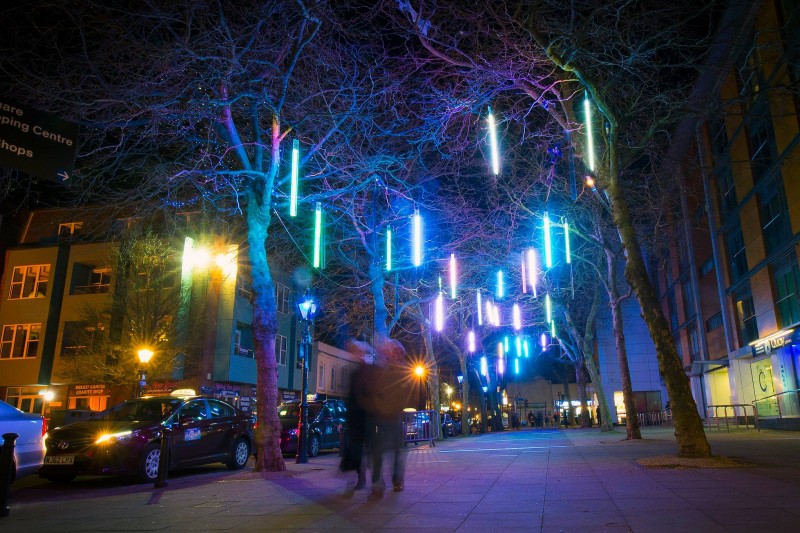 As the evening draws over the course of three nights in February, Poole will play host to a series of interactive digital light art installations designed to delight, enchant and inspire, one of which has been designed by BU graduate, Ashley Wilkie.
Ashley, who studied a BA in Digital Media Design at BU, went on to complete his studies with an MA in Creative Media Arts: Data and Innovation in 2017, and now works as a Freelance Motion Designer. Ashley's piece, Ebbs and Flows, has been inspired by the festival's theme of TIDES, and commissioned to make an architectural projection mapping on Poole's Guildhall building.
Ashley said: "As a small island we in Britain are surrounded by the harsh currents and cold temperatures of the Atlantic. Sea and currents connect us all across the globe with creatures venturing from shore to shore. Waves and tides carry these creatures thought different oceans along with some unwanted debris. We will follow a journey across the oceans, exploring its hidden depths using the iconic Guildhall building with its sweeping double stairway as a theatrical backdrop."
"Light up Poole is a great opportunity for locals and growing student community to get together for a few special wintery evenings. Having worked on many lighting festivals, Poole will hold a special place for me, giving me my first solo opportunity in 2018.
"For 2019 I will have 2 works in the show – "Juxtaproject" will return after a huge success last year and a new projection work, "Ebbs and Flows". Both works reflect many of my ideas and explorations while studying at BU."
To transform unused spaces and offer new ways of seeing everyday shop fronts, Media Production students from BU have created indoor light art installations as window displays.
BU Senior Lecturer in Digital Media, Liam Birtles, a festival mentor who exhibited his work Submergence at the festival last year, said: "Light is quite primal and light festivals are often held at the darkest times of the year to act as a reminder for people to gather together to remember they are not alone – there's something magical about that."
He added: "Light art is creating all kinds of new opportunities for young artists to devise work and show it in places that don't look like galleries. Anyone with a laptop can do it and if there are opportunities, there are going to be jobs or at least ways of earning small livings from making stuff in a tradition of small designer makers, digital crafts. Light Up Poole belongs in that tradition – you don't have to wait for permission, just do it."
A key part of this year's festival is the Light Art Symposium led by Bournemouth University, which will consider creative and commercial opportunities presented by cultural events, such as their contribution to the regeneration of places by developing cultural tourism out of season.
Libby Battaglia, Creative Director at Light Up Poole festival directors, Audacious, said: "In the same way that High Tech Campus Eindhoven has put that city on the map as the world's smartest square kilometre and home to more than 160 companies, Light Up Poole is an opportunity for the town to reach out to the world.
"We are showing work by world class artists as well as young local practitioners, so there is inspiration here for young people who feel the creative urge but wonder what their futures might look like."
Both emerging and International artists will showcase their ground-breaking work in a celebration of Poole's cultural diversity, rich heritage and unique location. Interactive public spectacles and intimate installations positioned at key locations both indoors and outdoors, will challenge perceptions that art is elitist and allow more people to engage and experience great art, technology and culture.
The event, sponsored by Poole BID and funded by Arts Council England, aims to transform Poole's familiar townscape with a programme of more than twenty light art spectacles that respond to the theme of 'Tides', next month's Light Up Poole is set to make an international statement.
The three-night festival of light also incorporates work by leading European artists such as Gijs Van Bon's poetry robot NYX, Tom Dekyvere's treetop Rhizone installation and the Celestial Beings illuminated stilt walkers of Elixire Circus Arts.
Justin Hundley-Appleton, Poole BID manager, said: "It's great to see Light Up Poole returning for 2019 after last year's event was well received by everyone and certainly encouraged participation. There are some really interesting installations in story for this year's event that we're looking forward to seeing come to life."
"As well as artists of international standing, Light Up Poole also showcases emerging artists and students from Bournemouth and Southampton universities and Arts University Bournemouth, as well as Poole schools. A cornerstone of the festival's programming is to challenge and inspire young people's creativity.
To read more about the festival, visit: https://lightuppoole.co.uk/