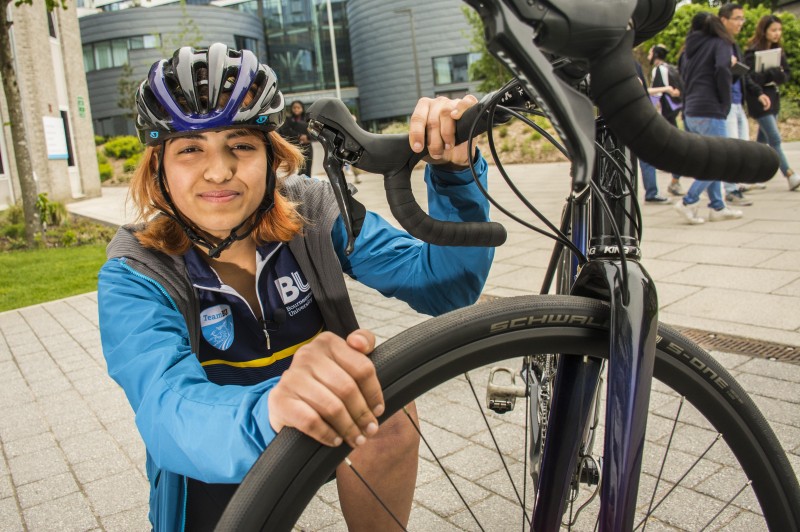 Vedangi Kulkarni, a BSc Sports Management student at BU, has become the first Asian and youngest female to cycle unaided across the globe.
The 20-year-old student from Pune, India began her 18,000-mile journey in July, cycling around 180 miles per day across four continents and 14 countries, including the US, Canada, Finland, India and New Zealand, before finishing in Perth, Australia. 
Speaking of her efforts, current record holder Mark Beaumont, who made the journey in 79 days, said: "Vedangi is taking on the Everest of bike journeys, the circumnavigation World Record, and at such a young age is out to prove that anyone can dream big take on such tenacious adventures. I salute her careful planning, passion to inspire others, and sheer determination to ride."
The journey provided additional challenges to overcome, including visa delays, a robbery in Spain, an altercation with a grizzly bear in Canada, and camping alone in subzero temperatures in the Russian snow.
Vedangi completed the ride in 159 days, becoming the fourth female to attempt the trip. British cyclist 38-year-old Jenny Graham, began her attempt at the same time. Before the trip, she said: "Excitingly, I am also going to be attempting [the record] at the same time as someone else. Vedangi Kulkarni is setting off from Perth, Australia, on the exact same day as me, which is going to add a really exciting element to both of our attempts."
BU has sponsored Vedangi throughout her journey, both in funding and in terms of providing academic and training support.
Speaking over social media, Vedangi said: "On 24th December 2018, I managed to reach the official finish line of my around-the-world circumnavigation by bike, becoming the youngest woman to do so at the age of 19/20. It's been a wild ride with some of my closest people being a big part of it, directly or indirectly. I'm grateful to all the sponsors, friends and family for literally everything."
SportBU's Business and Partnerships Manager, Barry Squires, said: "We're proud of all of our students' achievements at BU, but what Vedangi has achieved through this monumental feat is nothing short of outstanding – we're thrilled to have been able to help her in realising her goal."
He added: "Vedangi's commitment and passion to undertake such an arduous and challenging journey has been infectious, and the whole BU community has been supporting her throughout the entirety of her trip. We're looking forward to hearing about her experience when she returns to her studies this year."
On completing her trip, Vedangi received a message of congratulations from India's Congress President, Rahul Gandhi, who said: "Congratulations, Vedangi! This achievement speaks volumes about your dedication, your conviction and your ability to dream big! More power to you!"
To read more about Vedangi and her experiences along the trip, visit www.vedangikulkarni.com.