BU and BIRSt – one of BU's student radio stations - welcomed Lorna Clarke, Production Manager BBC Radio 2 and 6 Music, who shared her years of experience of working within the BBC with MA and BA Media Production students.
She joined MA Radio Production students in the Alan Brown Studio to see the launch of BIRSt's newly launched website, the extensive archive of work and talk to the team.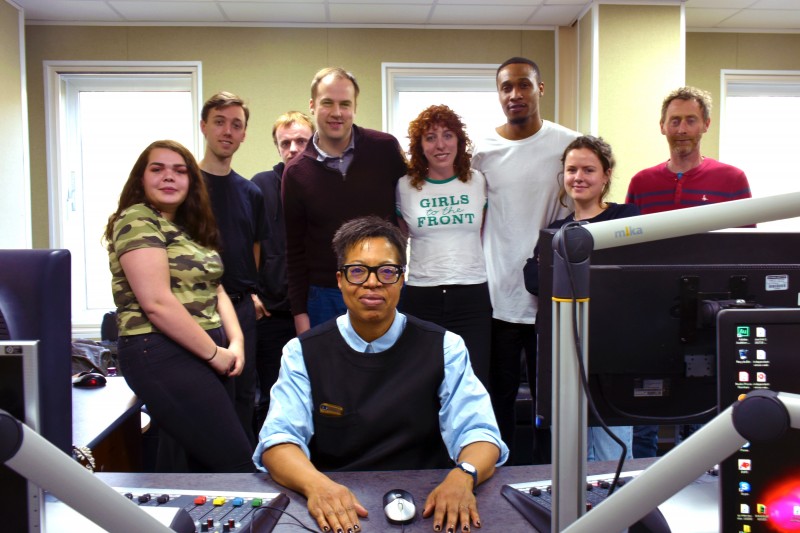 Lorna Clarke, speaking to students as a part of the launch, spoke about diversity in the radio sector, workplace confidence and the current radio landscape. Speaking to the students, she said, "I properly believe that if you have a diverse workforce, and I don't just mean BAME, I mean  on gender, on all sorts of levels, you will have a more interesting range of conversations and from conversations, you get ideas."
BU student Cher Dunn said, "It was inspiring to have Lorna Clarke come to our lecture and check out our studio. Her insight on the industry, making connections, speaking up with your ideas and working hard to create great content with immense passion behind it will influence the way I work and go about every job from now on."
Jo Tyler, lecturer in radio at Bournemouth University and BIRSt supervisor, said, "The latest iteration of BIRSt is sleek, well designed and reflects the contemporary industry trend towards podcasting, drama and crafted storytelling; influences from NPR as well as the BBC and our own alumni.
"We're also introducing content from other courses producing audio. This month you'll also hear Media Production students' adaptive audio dramas based on Mary Shelley's Frankenstein (1818).  It's a privilege to have someone with Lorna's experience validate this and spend time talking to future producers."
On Thursday 7th March to celebrate International Women's Day on March 8th Producer Cher Dunn presents 'Queens to the Front', an all-female led programme celebrating women in music. Join Cher at midday and go to BIRSt to find all the new content
BIRSt is run by MA Radio Production students at Bournemouth University, featuring 19 years of student radio work. Find out more at www.birst.co.uk