TV presenter and naturalist Chris Packham visited Bournemouth University (BU) to take part in two events organised by the Royal Television Society (Southern), supported and hosted by BU. 
Chris Packham spoke to media students to encourage an ethos of sustainability and environmental awareness in media production, and also took part in a one-to-one interview where he spoke candidly about his life, television career, and living with Asperger Syndrome.
The visit coincides with BU's announcement that it has joined forces with BAFTA/albert Consortium to champion sustainability in the television industry. BAFTA/albert is a consortium of broadcasters who have developed protocols for broadcasters to follow, in order to reduce their carbon footprint.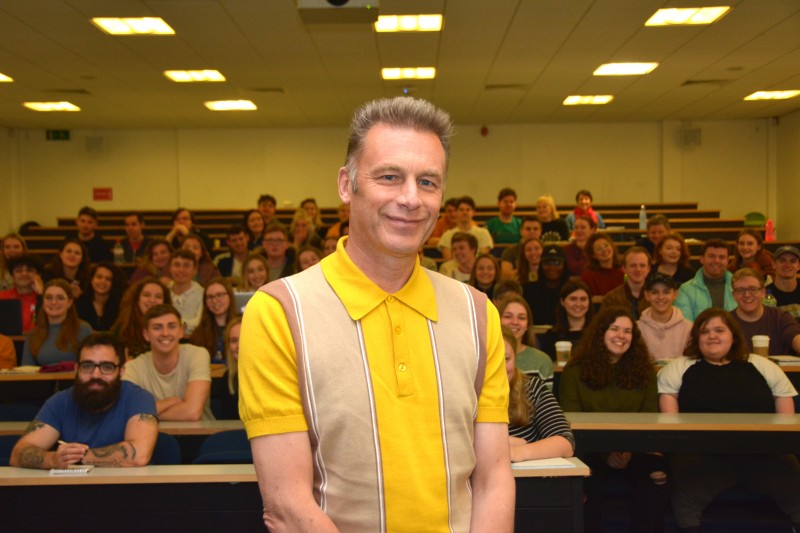 Chris spoke to media students about his career as a naturalist and how he made his way onto television, before talking about the initiatives he was still trying to put in place to help change behaviour within the television industry to a more sustainable way of working.
He cited examples from his time at Springwatch, car sharing with crew members and removing plastic water bottles from the set and taking his own cruelty free make-up, as just small ways that a change in working environments can have an impact on the world around us.
Speaking to the students, Chris Packham said, "I have been pushing for it [sustainability] for as long as I've been working in media production. We need a more sustainable approach to the planet and you can't make programmes on saving the planet if you're contributing to the problem."
Annie East, Programme Leader BA (Hons) Television Production, said: "Chris Packham inspired students from our various media production undergraduate and postgraduate courses to be sustainable in their filmmaking practices and use their youth and ideas to drive change in the world. He gave fantastic examples from BBC's Springwatch, and suggested ways students can use the albert protocols in their shoots.
"Chris has really brought alive the need to encourage sustainable awareness in our work and personal lives and this will be continued with the partnership that we have founded with BAFTA/albert which will enable staff and students to contribute towards the transformation of the film and television industry."
Stephanie Farmer, Chair of the Royal Television Society Southern Region, and Exec Producer of RedBalloon Productions, based in the Faculty of Media and Communication at BU, said, "Chris' absolute passion for the natural world shone through in both of the sessions he gave today.   His first session with students will, I'm sure, stay with them for some time and inspire them to be responsible and informed programme makers and understand the importance of sustainable filmmaking.
"His second event was a wonderfully honest journey through his life and he told us how his Asperger syndrome has affected his life, TV career and personal relationships. At times very moving and funny - but always brutally honest and impassioned - Chris's talks today to the students and the wider public will surely inspire many of us to do more to protect and value our planet and have a much clearer and kinder understanding of what it means to be 'different'."
For more information about Bournemouth University's commitment to sustainability, visit: https://www.bournemouth.ac.uk/about/sustainability