Chloe Thomas, TeamBU and Welsh International Table Tennis player has been selected to represent Great Britain at the World University Games 2019 in Napoli, Italy.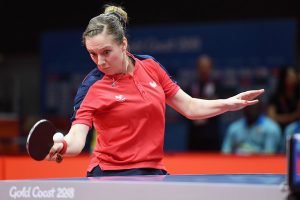 Having previously represented GB at the Summer Universiade in Taipei during 2017, Chloe is back again after a hugely successful year. Commenting on being selected again, she expressed: "I am extremely excited as a Bournemouth Sports Scholar to have been selected to represent Great Britain at the World University Games in Italy. After competing in the 2017 Taipei World University Games, I know  how high the standard of competition is at the games, and will continue to train hard to ensure I will perform my best."
Despite being her final year of her BSc Nutrition Degree, Chloe has seen her season include winning the BUCS League and Cup in February 2019, as well as winning a bronze medal in the BUCS Table Tennis Championships.
However, a huge highlight for Chloe was competing at her second Commonwealth Games in Australia representing Wales, where she and her team placed 5th overall. Speaking of this experience Chloe said: "I was extremely proud to represent my country for the second time at the Commonwealth Games in Australia. It is always a privilege to put on the Welsh kit and perform at high level competition."
On top of these great results, Chloe's other highlights of 2018 include reaching the Semi-finals of the Team Table Tennis World Championships and winning a gold and silver medal at the National Championships.
Congratulations on your selection Chloe!
If you would like to follow Chloe and her journey, follow Chloe on twitter.