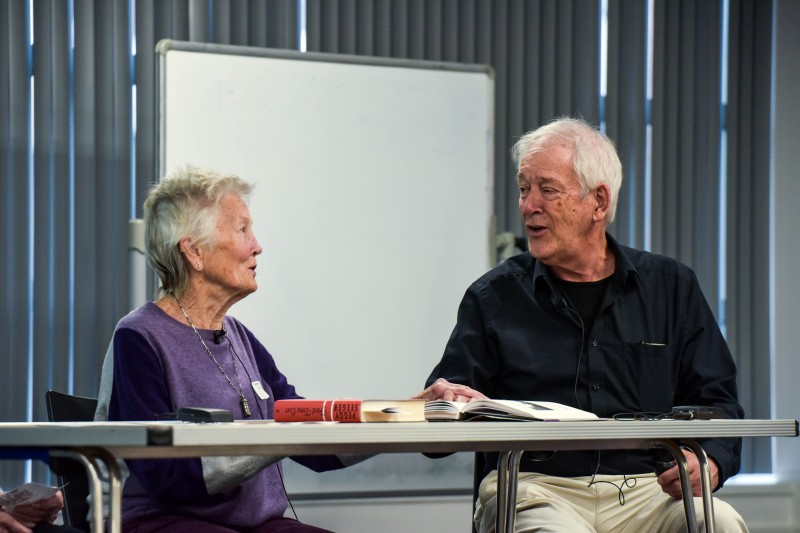 US folk songstress Peggy Seeger visited Bournemouth University (BU) to talk to staff, students and fans about her work with Bournemouth-born pioneering radio producer Charles Parker as part of centenary celebrations for Charles Parker Day 2019.
Married to fellow folk icon and Scottish activist Ewan McColl, the New York born musician was instrumental in creating the BBC's seminal Radio Ballads series of broadcasts from 1958 to 1963. The Radio Ballads, which were created by radio producer Charles Parker, aimed to fuse together elements of documentary, music and storytelling, to become soundscapes exploring the sights, sounds and emotions of Britain throughout the late 1950's.
Parker himself described these as: "A form of narrative documentary in which the story is told entirely in the words of the actual participants themselves as recorded in real life; in sound effects which are also recorded on the spot, and in songs which are based upon these recordings, and which utilise traditional or 'folk-song' modes of expression."
Topics for the ballads ranged from the story of a railwayman tragically killed attempting to slow a runaway train, the building of Britain's first M1 motorway, and the intractable illness of polio to teenage life in post-war Britain.
Speaking about their friendships, Peggy said: "Ewan and Charles didn't really battle – Charles really idolised Ewan and probably too much in a way because Charles had his own abilities which Ewan didn't have. Charles wanted to be the writer – he developed incredibly in his own person because he was very insular in himself but he had very definite ideas about class and about sharing and that sort of thing."
Organised by BU Professor of Radio, Sean Street, Seeger was visiting the university alongside BBC Ballads Studio Manager Gillian Ford as part of a day of celebrations remembering the life of the radio veteran, whose work has inspired scores of budding producers. Also attending the day was BBC Radio 4 Commissioning Editor, Mohit Bakaya, who chaired judging for the Charles Parker Prize for Best Student Audio Feature.
BBC Three's Assistant Producer Andrew Efah, composer Jon Nicholls and editor Hugh Levinson were then interviewed by the Prison Radio Association about their BBC Radio 4 feature about knife crime, Ballad of the Blade. The children of late BU academic, radio technician and producer, Alan Parker, also gave an account of growing up with a father 'obsessed with actuality and editing'.
To read more about the Charles Parker Trust and its work in inspiring the next generation of radio talent, visit: http://www.cpatrust.org.uk/