The winners of the UK-VN Higher Education Project World of Work Student Competition have been announced:
Joint 1st Place: Team The Alpha - Anh Thu Vo Do, Bùi Thanh Hằng, Châu Ngọc Đoan Thảo and Bùi Trần Thu Hương
Team BellClubUEH - Nguyen Duong Trung Tin and Vo Tran Duc Giang
2nd Place: Team SSG - Pham Thi Thien Thu and Chau Phuong Tung
3rd Place: Team Balance - Anuradha Mondal
Funded by the British Council, the UK-VN Higher Education Project has been a collaborative effort between Bournemouth University, Foreign Trade University (Hanoi) and University of Economics Ho Chi Minh City, with the aim of solving challenges facing university-industry partnerships and student engagement in each country. The project culminated in the World of Work Forum as part of the Global Festival of Learning Vietnam 2019, which explored how universities and industry collaborate to develop work-ready graduates in Europe and Vietnam.
The competition focused on two of the UN Sustainability Development Goals – Goal 4; Quality Education, and Goal 8; Decent Work and Economic Growth - and set students the task of tackling these goals at the World of Work Forum during the Global Festival of Learning.
The Festival attendees were asked how industry could work with universities and students to ensure a sustainable reduction in the proportion of young people not in employment, education or training by 2020, and were tasked to present their ideas to the panel.
Submissions were highly creative, including presentations and videos, and the winning proposals covered an exceptional range of ideas, such as open software training days, volunteering opportunities, promotion of new technologies, alumni networks and innovations to connect students with industry projects.
The panel of judges included Philip Ost of Zurich Insurance, and Holly Bathurst of Siemens UK, both Bournemouth University alumni now working in industry. The panel praised the professional finish of the projects, the inclusivity, the engaging stories, soundtracks and artwork. Philip Ost said, "We were wowed by the WoW student submissions".
Links to each of the winning projects can be found on the Global Festival of Learning 2019 Facebook page.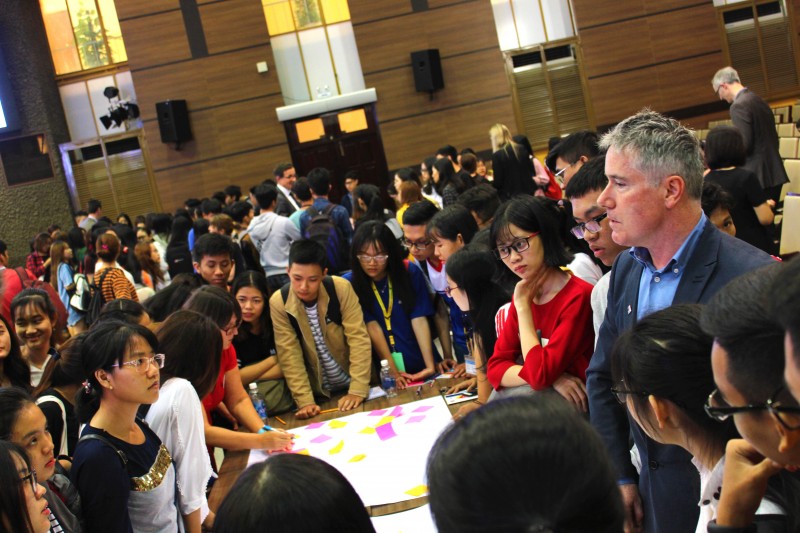 Chinese students taking part in an activity during the 2019 Global Festival of Learning