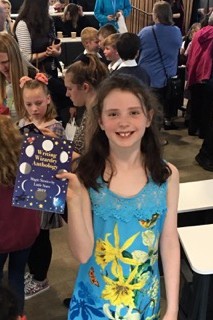 Bournemouth University and local bestselling children's author Maz Evans recently hosted the Writing Wizardry Writing Competition awards night. Primary school children who had been shortlisted for the prize, their families and their teachers, all flocked to the university to see Maz Evans read the winning stories and to find out who had been awarded the top prizes, £150 of books from Waterstones, Bournemouth.
The children, who had submitted stories inspired by a Magic theme, were delighted to see their stories published in the Writing Wizardry anthology, which was designed by English and Communication and Media students studying writing and publishing at Bournemouth University. There was also a flying visit from the Writing Wizards and Witches (also MA Creative Writing and Publishing students) who had visited many of the schools represented to deliver free writing workshops.
The Deputy Head Teacher at Ringwood Junior School, Sam Fuller, said: "For the children, just knowing that they are invited to a prestigious awards ceremony is wonderful. They benefit hugely from spending time in the University environment, which raises their aspirations about what they can achieve."
Senior Lecturer Emma Scattergood who runs the Writing Wizardry competition said: "Running the school writing workshops and the competition is just so rewarding. It is wonderful to see the children glow with new confidence when they find out they have been shortlisted or won a prize. Their smiles, and the tears of joy from the parents, say it all!"
You can find out more about the free writing workshops for primary schools, and the Writing Wizardry Competition, at www.fresherpublishing.co.uk.