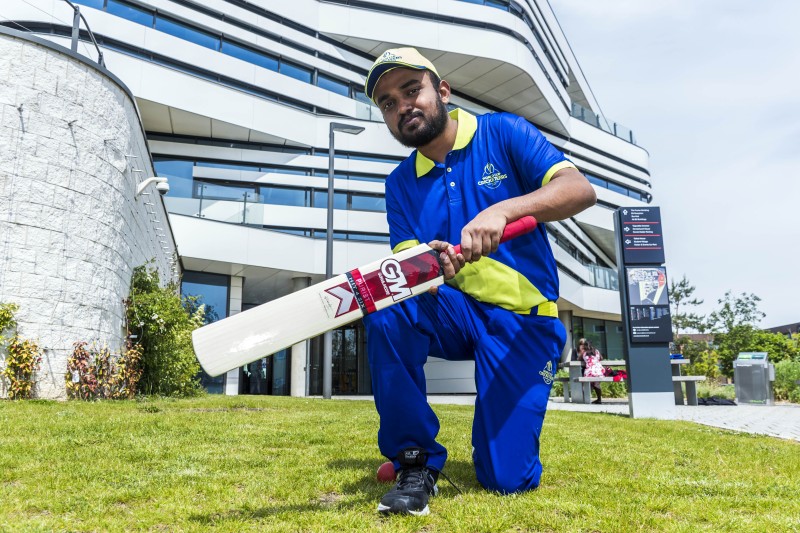 Adithya Raghuraman will be taking up his position as a Cricketeer at Southampton's Ageas Bowl next month, where he will see some of the world's best cricketers in action, including India's fast-bowler Jasprit Bumrah and Afghanistan's formidable all-rounder, Rashid Khan.
 
More than 20,000 people applied to Cricket's governing body, the International Cricket Council (ICC) to work at this year's world cup, with less than a quarter of volunteers being chosen to represent the sport on the world stage.
 
Adi, who is currently studying for an MSc in Sports Management, will be working throughout some of the tournament's most anticipated games, during which he hopes to gain first-hand experiences that will feature in his final year thesis.
 
Adi said: "I really love sports, so I want to do something back in India when I finish my course, so that's why I'm doing my Master's in Sports Management, so that I can learn all of the skills and get all of the experience, and then use these in my country.
 
"Since I'm from India, I'm fascinated about cricket, so once I came to know about this opportunity and that the ICC was looking for volunteers, I thought I'd just give it a try. If I represent BU on a global stage like this, it will give a lot of praise to the university."
 
"One thing that drew me to Bournemouth was actually AFC Bournemouth and from 2015 I'd been following the club's journey, so when I saw about BU's partnership with the club, that's what made me choose BU."
 
Speaking about how the competition could help in his studies, Adi said: "The kind of work I'm going to be doing involves social media, so it's interconnected with my dissertation. I'm going to try and get contacts from the ICC and if I get the chance, interview them and use this in my work."
 
The quadrennial tournament, which takes place over June and July, will see more than 1.5billion people tune in to watch ten squads including South Africa, New Zealand, and the West Indies do battle to win the coveted accolade. Venues are set to include London's The Oval, Nottingham's Trent Bridge, Southampton's Ageas Bowl, and Headingley in Leeds. 
 
Jim Andrews, Chief Operating Officer at BU, said: "We are so proud of Adi, and all of our students who continue to represent BU on the world stage at some of the biggest sporting events on the planet."
 
He added: "Competition for the role of Cricketeer at the Cricket World Cup has been incredibly fierce, so it's wonderful to see a BU student take part and add so much to a globally-renowned event."
 
To read more about sport at BU, visit: www.bournemouth.ac.uk/sportBU