A programme to train Chinese football coaches has taken place for the fourth consecutive year in Bournemouth.
Bournemouth University, alongside partners AFC Bournemouth and the Dorset FA, were chosen to deliver a bespoke training programme to a group of coaches from across China.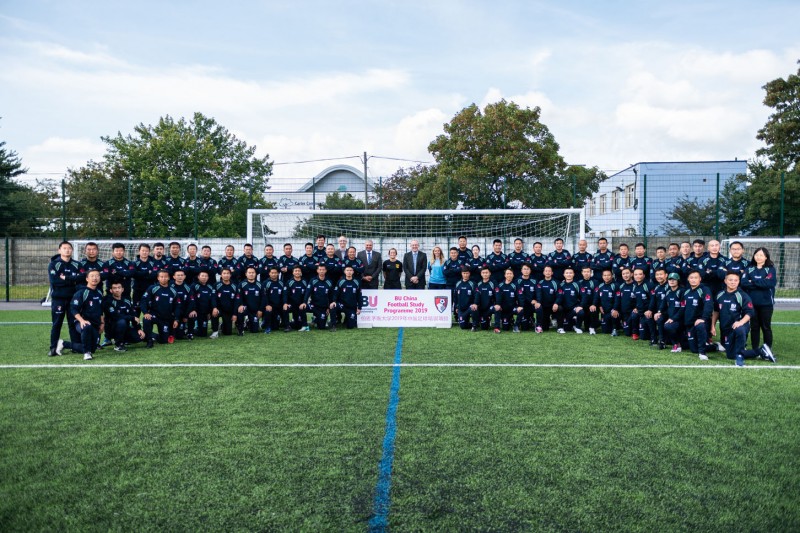 The project saw the three organisations collaborate to deliver physical and classroom-based training sessions to help underpin sports coaching in China, as the country looks to deepen its skill across all levels of football.
The BU China Football Study Programme took place for the first time in 2016, and the Dorset-based training is the only programme to have been chosen four years running.
60 coaches from China lived and studied in Dorset while completing the three-month coaching programme, before taking the skills back to China to help to achieve China's goal of training 50,000 full-time and part-time coaches by 2020 and winning a football World Cup before 2050.
Jim Andrews, Chief Operating Officer at Bournemouth University, said: "We are delighted to be the only university chosen four years running to host this programme, underlining the quality of our education, alongside partners AFC Bournemouth and the Dorset FA. Each year we have welcomed Chinese coaches onto our campus to support their development and I have been continually impressed with their dedication and hard work. This year is no different as we further our links in China and support the future development of football talent in Asia."
Jeff Mostyn, Chairman of AFC Bournemouth, said: "Having been involved since its inception in 2016, we have witnessed the annual programme for coaches from China develop and flourish. It has been a valuable and inspiring project, and so I am delighted that it is running for a fourth year.
"The club's motto is 'Together, Anything is Possible'. It is something which extends far beyond the walls of the Vitality Stadium and is our link into the local community through the hundreds of hours of coaching we deliver each week.  I am proud that it is a community these coaches will become part of while studying at Bournemouth University."
Sue Hough, Chief Executive of Dorset FA, said: "The Association are delighted to again be involved in the project delivering FA Courses to students from China. We are very proud of the facilities here at the County Ground and this year sees the addition of a bespoke training room which the Chinese students will be the first to utilise."
The strategic partnership between BU and AFC Bournemouth is a key factor in delivering the training; Bournemouth University has been the official higher education partner of Premier League AFC Bournemouth for over six years.
The two organisations, alongside Dorset FA, led the programme of hands-on skills training, while academics from BU also delivered a programme of lectures and workshops looking at subjects such as management, psychology and media skills.
For more information about Bournemouth University's partnership with AFC Bournemouth, visit www.bournemouth.ac.uk/afc-bournemouth