A range of events took place at Bournemouth University to mark World Mental Health Day.
The day is an opportunity to raise awareness of mental health issues and encourage open conversations.
A host of talks and activities took place throughout the week at Bournemouth University, exploring everything from perinatal mental health to how nature and wildlife photography can support health and wellbeing.
Other events looked at the impact of mental health on families, and maintaining the health and wellbeing of police officers and vulnerable people who come into contact with the criminal justice system.
BU also supported the regional launch of a joint national campaign between Public Health England and the NHS called Every Mind Matters, encouraging people to take care of their mental health, much like they do their physical health.
The theme for World Mental Health Day 2019 was suicide prevention. Experts from across BU and the community came together to discuss working to prevent suicide, with talks from the Samaritans, Dorset Suicide Prevention Partnership and local health and care groups.
Dr Ann Luce, a Principal Academic in Journalism and Communication at BU, also spoke at the Working together to prevent suicide event, talking about the role the media can play in suicide reporting.
She has helped develop a responsible suicide reporting model for journalists, with six questions that journalists should answer ahead of publication to ensure that their coverage of suicide is sensitive and ethical.
Dr Ann Luce talks about the role the media can play in preventing suicide and how her research is supporting journalists to report ethically and responsibly about suicide.
She said: "World Mental Health Day targeting suicide prevention is really important - we have 800,000 suicides a year globally and we know that suicide rates have gone up in the UK. We have 6,507 suicides every year – that's an increase of 11.8%.
"For every one person we lose to suicide, there are between 6 and 135 people who are affected by that death so suicide is not just that one person, there is a ripple effect on family, on friends, on colleagues.
"So it's crucial that the more awareness we can bring to this topic, the more we can realise that there are things we can do to help."
She added that she hoped the event would help people understand better the work that is being done, and that still needs to be done.
"I hope what people will take away is the fact that suicide is something we need to talk about, and we need to not be afraid of it.
"There's a lot of work that we need to do in this field and that actually the media, and journalists specifically, play a massive role in helping us destigmatise mental health, destigmatise the issue of suicide and that the audience has a responsibility to hold the media to account when we see unethical reporting."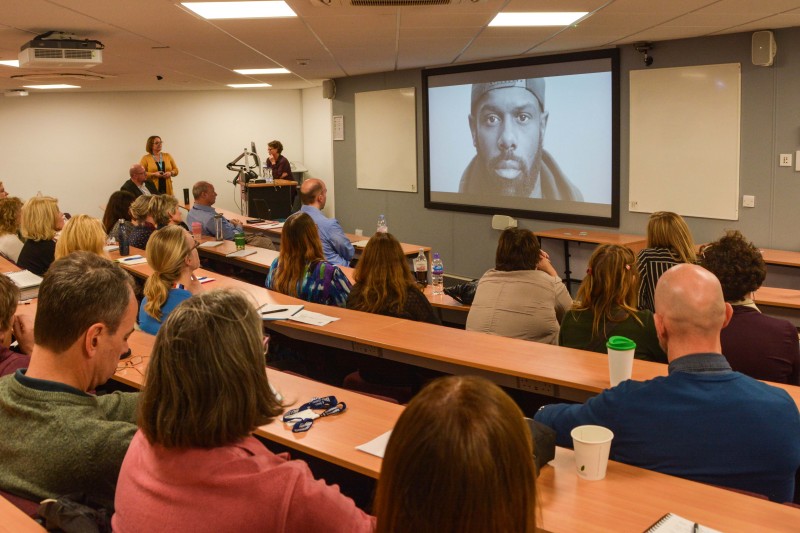 Jim Andrews, Chief Operating Officer for Bournemouth University, opened the event. He said: "At Bournemouth University our purpose is around inspiring learning, advancing knowledge and enriching society.
"What this event does, and what mental health does, is that it pulls all of these strands together – the work that we do really practically among our staff and our students, but the enriching society piece is something we are really proud of in terms of our position in the local community, supporting organisations and supporting people to really live better lives.
"I think what's great about this type of event is that it brings all organisations together to think about what we can do to prevent suicide. It's the partnership that really makes a difference in terms of determining outcomes, whether for ourselves for loved ones, for friends, for family, or for the local community."
Listen to our podcast to hear about the partnership between BU and the Samaritans and how we are working together to reduce the stigma around mental health and make it easier for those in the BU community to access the help and support they need: 
For more information or advice about suicide prevention visit: https://www.samaritans.org/