Pioneering research on dinosaurs, forensics and data took over London at New Scientist Live.
 
Last week and over the weekend, visitors to New Scientist Live at the ExCeL in London got to experience research from Bournemouth University (BU) academics bringing together dinosaurs, forensics and data science.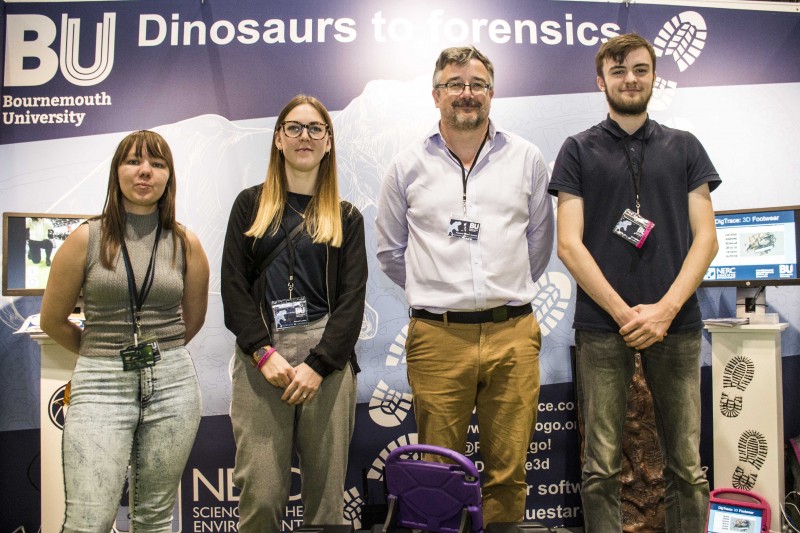 New Scientist Live is an award-winning and prestigious science festival, held every year at ExCeL London to showcase the latest research and developments in science. At the event marine biologists spoke alongside astronauts and there were workshops on everything from how to speak gorilla to managing exam stress.
 
The team of BU academics behind Dinosaurs to forensics were at New Scientist Live, showcasing DigTrace, software for analysing footprints which can be used for forensics and palaeontology alike. The team also demonstrated PalaeoGo! - an augmented reality app that brings extinct dinosaurs to life. 
 
BU's Professor Matthew Bennett, an expert in environmental and geographical sciences led the team at New Scientist Live and was joined by Professor of Data Science Marcin Budka, palaeontologist Dr Sally Reynolds and Postgraduate Researcher Hannah Larsen as well as several undergraduate students.
 
DigTrace was developed with government funding and help from the Home Office and National Crime Agency it allows digital cameras to capture 3D images of footprints. The software can then be used to visualise, analyse and compare these traces digitally. DigTracehas been used to track sauropods in the Purbecks after footprints were found in a quarry in Dorset and to  analyse fossil footprints found around the world. It is also used by the police to help track criminals via their footprints and the BU team is working with Bluestar Software to develop new forensic applications for the Home Office
 
PalaeoGo! is a free augmented reality app that recreates dinosaurs and other extinct reptiles and mammals in 3D. The project is a joint effort between BU's computer animators, computer scientists and natural scientists and is being used at the Etches Collection – a fossil museum in Kimmeridge, Dorset. 
 
The ExCeL centre was a hub of activity during New Scientist Live, with visitors from across the country including over six thousand school students. The Dinosaurs to forensics team spoke to hundreds of people across the four days and demonstrated the technology's ability to bring dinosaurs to life in the public's pocket. 
 
Professor Bennett said: "It's great that BU is represented at the largest science festival in the country. We've talked to lots of school children, interested amateurs and a wide range of professionals. Everyone is very excited about having pet dinosaurs in their smartphones and we have really bought the research to life for all the visitors."