Bournemouth University's (BU) Associate Professor Dr Vanessa Heaslip is a Woman of the Year and was invited to the prestigious annual Women of the Year Lunch & Awards held in London.
The lunch brings together 450 women from diverse backgrounds, each of whom is selected for their extraordinary achievements and contribution to society. Each guest is a 'Woman of the Year' who has made a difference in some way.
Dr Heaslip, from BU's Department of Nursing Science, was named as a Woman of the Year for her commitment in ensuring health and educational equity for individuals from marginalised communities.  
Dr Heaslip's educational research in widening participation and fair access in higher education, alongside her clinical research in vulnerability and vulnerable groups in society whose voices are not traditionally heard is nationally and internationally recognised.
As a Woman of the Year, Dr Heaslip has been recognised alongside previous recipients of the honour, including Liz Clegg – a volunteer at the Calais refugee camp, Paralympic athletes Menna Fitzpatrick MBE and Jennifer Kehoe MBE and the Commissioner of the London Fire Brigade, Dany Cotton.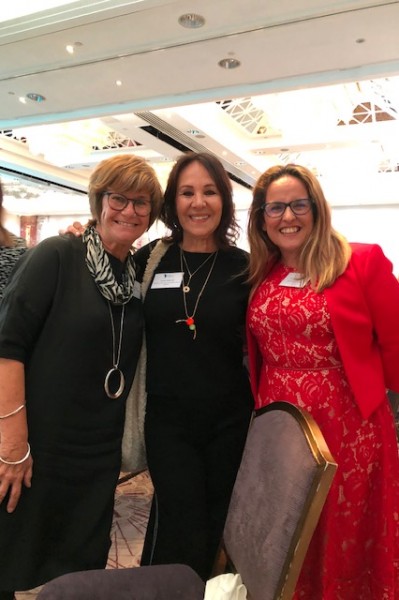 At the lunch, which was hosted by Mel Giedroyc, Dr Heaslip sat alongside news reporters and sports personalities like Moira Stewart and Baroness Tanni Grey-Thompson and TV personality and choreographer Arlene Phillips. Dr Heaslip also spoke to BU honorary graduate Sheena Byrom who was given an honorary degree in 2016 for her services to midwifery.
Dr Heaslip said: "The Women of the Year lunch was such an amazing day – it was a real celebration of the difference that women make in everyday society.
"We were honoured to be joined by amazing, yet rarely, celebrated women from Bletchley Park which really set the tone for the day. Recognising that each of us individually can make a difference and the impact of that collectively, is massive.
"There was a real buzz to the day in which famous faces joined ordinary women who were striving to make a difference in the world."
Women of the Year was founded by Lady Tony Lothian OBE with Lady Georgina Coleridge and Odette Hallowes in 1955 to recognise, celebrate and inspire women of all backgrounds.