Bournemouth University Disaster Management Centre (BUDMC) has recently completed a five-year disaster management programme in Oman.
As part of the Omani National Resilience Program (NRP), BUDMC was included within a consortium of top UK professional and academic institutions, along with selected commercial companies, hand-picked by senior representatives from related security agencies in Oman. 
BUDMC's work in Oman required a unique mix of Masters-level education and training modules combined with sector-specific professional workshops and seminars across a wide range of disaster management processes and scenarios.  Overall, BUDMC delivered approximately 36 one-week events, and trained 1600 Omanis in disaster management.  Key government organisations included within this disaster management programme included the Ministry of Defence, the Ministry of Tourism, and the Ministry of Health. 
Since its creation in 2001, BUDMC has conducted similar disaster management education, training and research projects in over 23 countries around the world. 
Professor John Vinney, Vice Chancellor of Bournemouth University said, "It has been an immense privilege for Bournemouth University to have been chosen to work alongside the Government of Oman in helping to train and prepare the people of Oman for disasters.  Preparedness and resilience are key, and we have been constantly impressed by our Omani colleagues".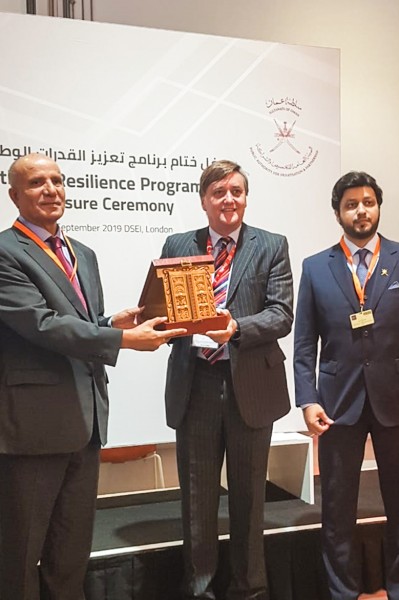 Richard Gordon MBE, Director BUDMC said, "The Oman NRP project has been a fascinating journey for us.  Our team has worked with multiple ministries, private and public organisations and commercial companies across Oman.  We have been humbled by the warmth and friendship that has consistently greeted us, and we are proud of their achievements and regional reputation for disaster management excellence.  We sincerely hope that this will be the beginning of a long relationship of trust and understanding with our friends in Oman as we continue to support them in their disaster management strategies."
BUDMC also specialises in developing and delivering challenging and realistic disaster management simulations and exercises.  During the five years of this project the centre delivered a range of table-top and command post exercises to the National Defence College, the Command and Staff College, and the Ministry of Health.  In addition, in 2017 and in coordination with NRP, BUDMC uniquely developed and ran a national conference on the integration of travel and tourism with emergency management in Oman. This five-day event brought together multiple organisations to look at the impact that disasters might have on infrastructure, tourism, government and emergency services.  
Bournemouth University also invited, and welcomed, three senior Omanis to undertake work placements within the BUDMC team.  They learned how to develop training and simulation exercises in emergency and resilience planning whilst also developing their own academic qualifications in disaster management.   
For more information about Bournemouth University's Disaster Management Centre, visit: http://budmc.uk/