International academics, third sector organisations and members of refugee communities came together at Bournemouth University to look at changing the narratives around refugees using sport, leisure, and art practices.
The research symposium was organised by Bournemouth University's Dr Nicola De Martini Ugolotti.
Dr De Martini Ugolotti's research explores how leisure activities, including, but not limited to arts and physical activity, really matter in the life of someone who is seeking asylum in Europe, and how understanding and addressing the relevance of these activities can contribute to changing current narratives about forced migration.
Dr De Martini Ugolotti said: "In media and policy debates, forced migrants are usually addressed as a problem that needs to be solved or managed, or as objects of charitable interventions at best.
"One of the implications of this is that to be a refugee means to be stuck in this label where you are either a traumatised, passive victim, or a 'bogus' refugee, and it's very hard to escape from those labels.
"By looking at how forced migrants engage with and create leisure activities, we can help to displace the labels that refugees are given both in policy and the media in ways that really matter for the refugees themselves and for public understandings of the topic"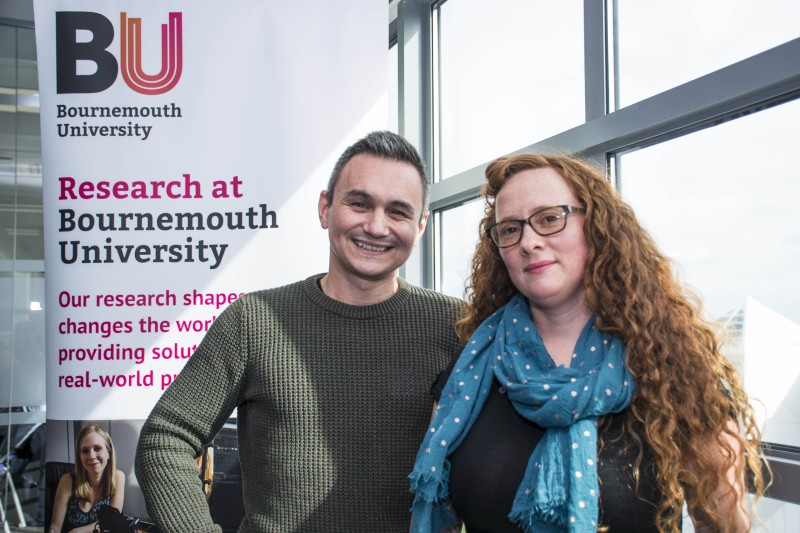 Dr Nicola De Martini Ugolotti and Dr Hannah Lewis, Keynote speaker
All the symposium attendees came together to share their experiences and research. The presentations and ensuing discussions ranged across a variety of relevant topics: Some considered how physical activities can contribute to contingently, but productively interrupt feelings of suspension and loss of control amongst asylum seekers. Others addressed the ways that leisure practices can be used to create bridges within communities through practices ranging from community cycling groups in Germany, to theatre in the UK.
Dr De Martini Ugolotti said that other crucial elements of discussion amongst the attendees related to the ethical responsibilities that are part of conducting research and community work with refugee communities. Some of these discussions included issues of voice and representation (especially of refugee women and non-gender-binary refugees), who "owns" and eventually benefits from research, and ensuring the sustainability of interventions co-created with refugees.
Dr De Martini Ugolotti said: "The Leisure and Forced Migration Symposium has been brilliant. The discussions that we have had have been mind-blowing and weaving together a number of crucial topics.
"We have talked about academic research but also about changing practices which is why we wanted to involve third sector organisations. The symposium saw people connecting and starting to look towards collaborating on future projects which is hugely exciting."
You can find out more about Dr Nicola De Martini Ugolotti's research on our research website.