Bournemouth University's week of graduation ceremonies continued with the Faculty of Media and Communication.
Over 1,200 students from subject areas such as journalism, law, animation and public relations took to the stage to shake hands with Professor John Vinney, Bournemouth University's Vice-Chancellor, before recieving their degrees.
Across two ceremonies, graduates heard from BU Chancellor Kate Adie and graduated alongside two honorary doctorates; Lord Phillips of Worth Matravers and Dirk Maggs.
Cheered on by friends and family during the ceremonies at Bournemouth International Centre, the ceremonies were also streamed live and watched around the world, including countries such as Turkey, Italy, the United States and India. 
The Rt Hon the Lord Phillips of Worth Matravers, KG, PC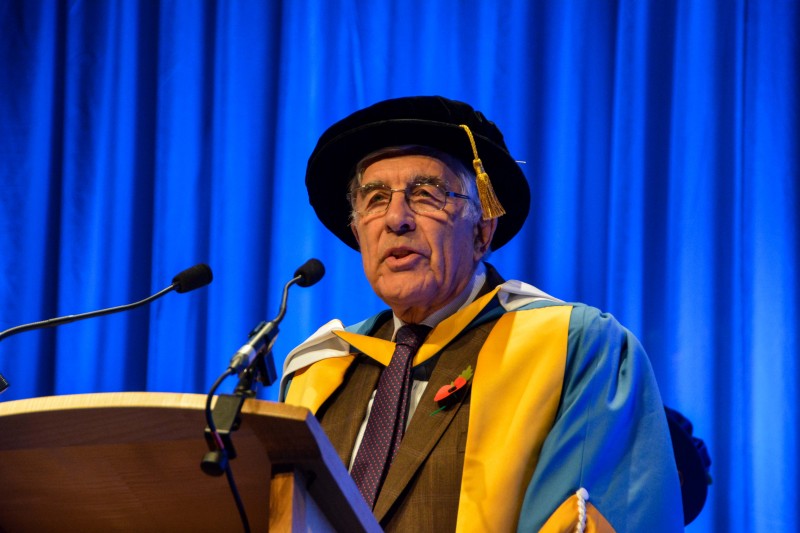 Lord Phillips has led a distinguished legal career which has included serving a Lord Chief Justice of England and Wales and President of the UK Supreme Court, before retiring in 2012. Lord Phillips served as Chancellor of Bournemouth University from 2008 to 2018, presiding over many graduation ceremonies. He said, "It feels very nice to be on the receiving end of a degree, just to receive one rather than giving out hundreds.
"The changes at BU have been quite extraordinary. Over 10 years, physically the university has changed in quite an amazing way, and that has gone hand-in-hand in with a great increase in the standard of teaching and research at the university. The integration of learning and preparing yourself to go into the outside world and get a job is also a remarkable feature of this university."
Dirk Maggs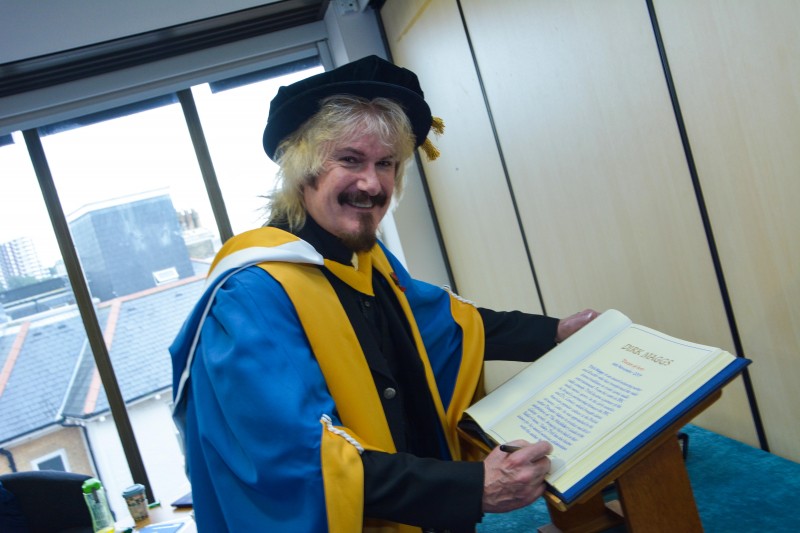 Dirk Maggs is an award-winning writer and director who is well-known for his work in producing radio drama. Dirk has worked alongside many famous faces to bring radio storytelling to life, most notably his work with Douglas Adams on radio adaptations of Hitchhiker's Guide to the Galaxy and his frequent collaborations with author Neil Gaiman.
Dirk said, "I've had a brilliant relationship with Bournemouth University. It is so full of enlightened, interesting students and educators. We are all in the business of telling stories; people turn to stories to heal themselves and explain what is happening. The beauty of working in the business of creative communication and graduating into that world is that these youngsters can become a part of how we define ourselves, and the way we explain our world, and doing that truthfully."
Bournemouth University's graduation ceremonies take place from 4-8 November 2019, with over 4,000 students graduating in total across the week. For more information about Bournemouth University's graduation ceremonies, or to watch a ceremony live, visit: https://www.bournemouth.ac.uk/graduation-2019