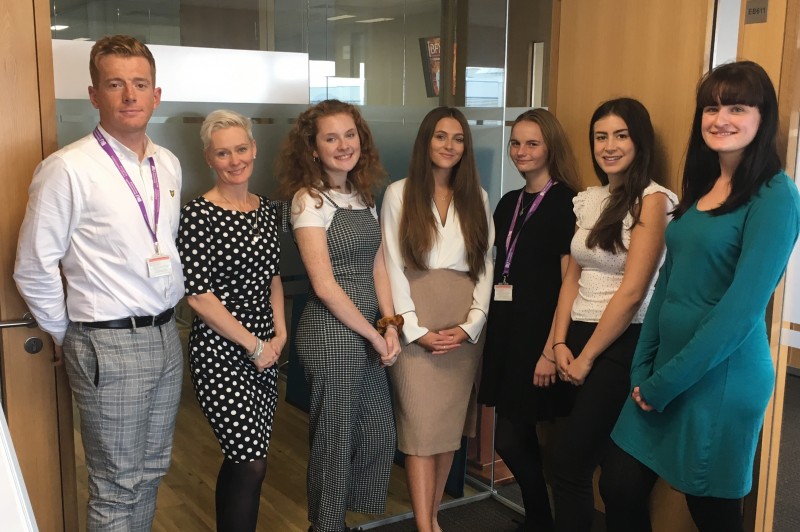 As the second round of Fusion Fundraising Academy placements opens this January, we spoke to this year's students to discuss their experience on this unique placement developing the next generation of fundraisers.
The six interns, all BU placement students, joined the Academy in September 2019. Since then they've taken part in workshops and masterclasses while undertaking placements with six local charity partners.
Tom Galpin, Prospect Researcher for BU's Fundraising & Alumni Relations Dept, said: "We were blown away by the standard of this year's applicants. We actually took on six interns instead of five because they were all so good."
The interns spend three days a week at their charity, where they learn fundraising skills first-hand, and the rest of the week at BU undertaking workshops, masterclasses, training and project work.
Tom continued: "They are being trained on all aspects of fundraising including trust fundraising, how to get a major donation, how to ask for money and charity law - and also transferable skills such as resilience."
Masterclasses have been taught by experienced fundraisers, including members of the BU Fundraising team. One session with HM The Queen's former press secretary helped students practice meeting dignitaries.
Nick Roe, one of the current Academy placement students, said: "We've had the opportunity to meet people we would have never met before and I think that's something I wouldn't have expected to be doing a year ago."
It's not just the students who have benefited from the Fusion Fundraising Academy. The interns work on projects for additional charities while on campus, undertaking research and presenting for smaller charities that don't always have the resources to do the work themselves.
Tom added: "Whether major donor, community or trust fundraising, it's well-know that there's a shortage of fundraisers… We recognise that there is this need in the industry."
The interns have fitted in well at their placement charities, and Forest Holme Hospice has featured its placement student, Charlotte Franklin, in their social media channels.
Academy intern Nick Roe continued: "The Academy has provided me with an insight into a field that I hadn't previously considered. It's a role that I believe anyone exploring a placement opportunity should give strong consideration to."
Applications open for the next round of placements on 8 January and close 5 February. Find out more at mycareerhub.bournemouth.ac.uk - log in and search 'fundraising' under Placements.