Leading regional figures from nursing and midwifery organisations joined Bournemouth University's (BU) academic staff on 14 January to celebrate the International Year of the Nurse and Midwife – designated by the World Health Organisation (WHO). 2020 was chosen to honour the work of nurses and midwives across the world because it also marks 200 years since the birth of Florence Nightingale – the founder of modern nursing. 
The event at BU marked the start of celebrations of the Year of the Nurse and Midwife and was an opportunity to recognise the vital roles that nurses and midwives have in primary care and to thank them for their hard work. Speakers at the event included industry opinion-leaders like Dame Yvonne Moores - Chair of the Florence Nightingale Foundation, Gill Walton - CEO of the Royal College of Midwives, Paula Shobbrook - Director of Nursing and Midwifery for The Royal Bournemouth and Christchurch Hospital (RBCH) NHS Foundation Trust and Professor Stephen Tee -  Executive Dean of BU's Faculty of Health and Social Sciences. The event examined the challenges the industry currently faces and looked at some of the cutting-edge midwifery and nursing research taking place at BU.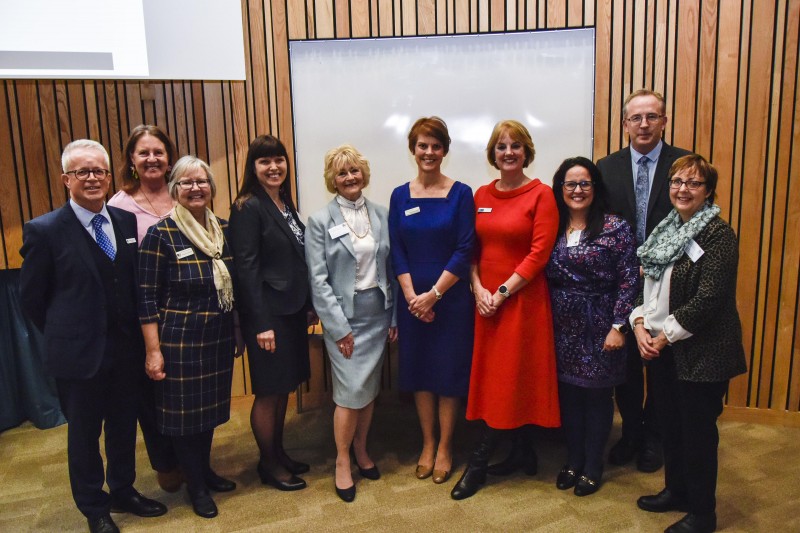 Professor Vanora Hundley, Deputy Dean of the Faculty of Health and Social Sciences said: "This opportunity enables us to advocate for midwives and to show what wonderful jobs we do. We also aim to support midwives in low-income countries that don't have strong associations and training opportunities but deserve the recognition for providing midwifery care for women and babies."
As part of BU's 'BU2025' strategy up to 2025, the university is committed to contributing to the health sector and focusing on health education. BU will open Bournemouth Gateway Building in September, which will provide a dedicated home to the Faculty of Health and Social Sciences and house state-of-the-art medical technology. 
Paula Shobbrook, Director of Nursing and Midwifery for RBCH NHS Foundation Trust emphasised the special relationship between the Trust and the University. She said: "The work we do with the university is key and students coming into practice are outstanding ambassadors."
Phil Richardson, Chief System Integration Officer to Dorset CCG spoke about the opportunities that the Dorset area has to offer. He said: "Dorset has created a fantastic opportunity for nurses to deliver the care that's needed by the patients but also to develop a career that could include research. We are currently exploring how we can drive nurse-led research with a view to them becoming principal investigators and then ultimately chief investigators."