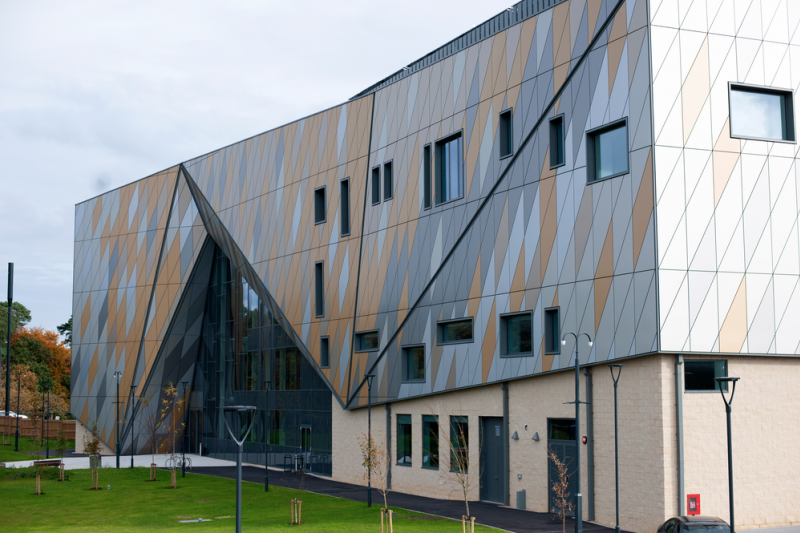 We're excited to announce that the Poole Gateway Building (PGB) on Talbot Campus opens its doors to students and staff on Monday 3 February.  
An official opening ceremony will take place at the end of the month, but the building is now in use and you're invited to take a look around. 
PGB provides a range of high-quality technical facilities to support undergraduate and postgraduate courses as well as research. It will be used predominantly by students from the Faculty of Science & Technology and the Faculty of Media & Communication, although it will also be open and accessible to students from other faculties. 
The new building will benefit from the new wireless networking infrastructure, which will support our students and staff with improved connection speeds and enhanced data security. 
On the ground floor you will find a Naked Coffee café. Naked Coffee is a local independent artisan business which takes great pride in roasting, blending and brewing unique ethical coffee. Term time café opening times will be Monday to Friday, 8.30am to 5pm. This is the second Naked café on Talbot Campus, with the first one based in The Sir Michael Cobham Library. Look out for the promotions which will be running throughout February. 
All students and staff are welcome to take a look at the building, which includes the latest professional-level facilities such as two multi-camera TV studios, a film studio and sound stage, music studios, a cinema to view student-made films, edit suites, sound suites, music studios, green screen and motion capture studios for animation. 
The building will also accommodate new animation, games and music, PC and Apple Mac laboratories, equipped with industry-standard software and the latest post-production editing eco-system, allowing for online collaboration between students working on group projects. 
Please be aware that whilst any students and staff can go into the building, the rooms inside are only accessible to authorised staff and students due to the high value kit in them.
The building is designed to be environmentally-friendly with a number of carbon-reduction measures and we are committed to achieving an 'excellent' rating for the Building Research Establishment Environmental Assessment Methodology (BREEAM) certification. You can read more about BU's commitment to sustainability and how we are developing sustainable campuses.