Bournemouth University (BU) graduate Ollie Tunmore has released his new documentary 'Drag: Around the Clock' featuring drag superstars.
Featuring world-leading drag artists including The Vivienne, who was crowned the winner of the first UK season of RuPaul's Drag Race in 2019, the film includes cast members of the UK and US seasons of Drag Race, along with other notable figures from the UK LGBTQ+ scene.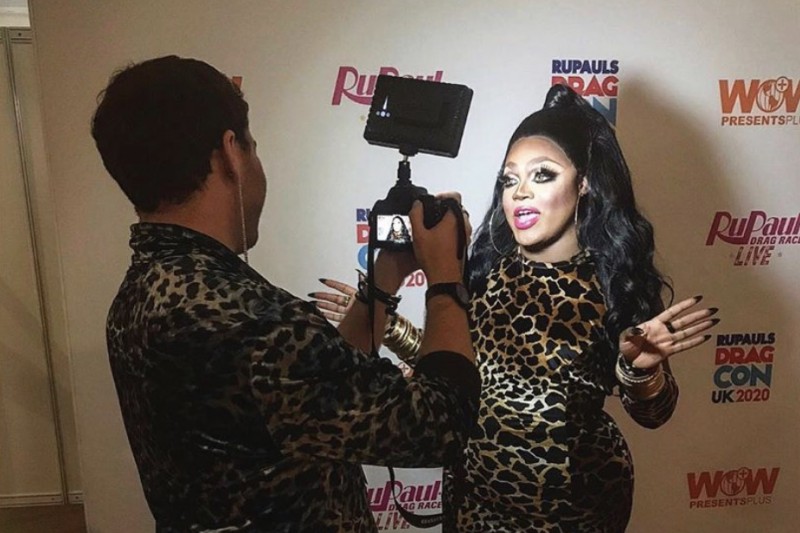 Ollie Tunmore interviews RuPaul's Drag Race star, Mayhem Miller.
BU graduate Ollie Tunmore produced, filmed and edited the piece. Ollie graduated from the BA Hons Media Production course in 2019 and created a documentary for the Terrence Higgins Trust as his final project. Ollie said: "I was inspired to create the film after falling in love with documentary filmmaking in my final year of studies at BU.
"My studies helped greatly because almost everything I know now about media production, I learned from BU. The skills I learned in my final year will stick with me forever and give me a competitive edge in my current field of work."
'Drag: Around the Clock' is a 20-minute-long film that showcases more than 30 leading drag artists from around the world and was filmed and produced across the south coast. The film features Bournemouth's leading LGBTQ+ venue DYMK Bar & Club and Bournemouth-based drag artists Charmaine Diamond White, Delatrix and Rougie.
Investigating life as a drag artist in 2020, the film documents the highs and lows of working in the scene. It hears from artists as they discuss their favourite moments in drag, greatest challenges and hopes for the future of drag and more.
From nightclub shows and in-depth interviews through to the UK's first ever 'DragCon' (the largest drag convention in the world) and other behind-the-scenes shots, the film looks at drag, around the clock.
Ollie said: "This project has been a real labour of love, and I am immensely proud of it. It truly is a reflection of drag, around the clock, too. I interviewed people at 1am above a club, had 21-hour days starting at 4am filming at DragCon, basically I worked on it however and whenever I could!
 "I want to thank the incredible artists featured, DYMK Bar & Club, Premier Communications and World of Wonder for helping enable all of this to happen."
'Drag: Around the Clock' is available to watch YouTube here.