A Bournemouth University professor has published a report making recommendations to enhance the competitiveness of the 3D printing sector in Europe.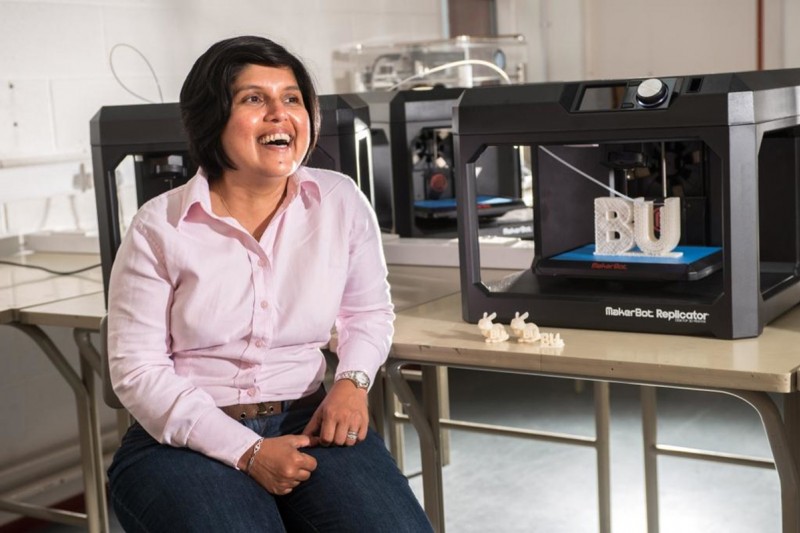 Working alongside a team of academic and industry partners across Europe, BU's Professor of Intellectual Property and Innovation Law, Dinusha Mendis, was awarded the project in 2018 by the European Commission.
The study provides an overview of the industrial applications of 3D printing across seven selected sectors - health, aerospace, automotive, consumer goods/electronics, energy, industrial equipment/tooling and construction/building - identifying potential challenges, opportunities and policy recommendations in the field of intellectual property for businesses. It also considers the intellectual property implications of different elements throughout the 3D printing process – from designing a Computer Aided Design (CAD) file to distributing and licensing the product.
3D printing is a relatively new technology. Today it is widely used for producing visors, face masks and ventilator parts during the Covid-19 crisis. This report is highly relevant for businesses and consumers currently working with 3D printers in Europe.
Ahead of the report's publication in April 2020, a workshop was hosted in Brussels on 14 October 2019. The workshop was attended by academics, practitioners, businesses and policy makers bringing together key stakeholders in the field of 3D printing and international property laws. You can read more about the workshop and watch the presentation on the BU website.
"The report is coming out at a good time because 3D printing is very much in the news because of Covid-19. Our report considers the development of industrial 3D printing from a legal perspective," said Professor Dinusha Mendis.
"The European Commission wanted to really understand how businesses can use 3D printing to assist the competitiveness of the 3D printing and Additive Manufacturing (AM) sector and reach its potential in Europe. The current intellectual property framework was created long before 3D printing came into being, so it's not designed to deal with something such as 3D printing which leads to a number of challenges. The project considers how these challenges can be addressed or overcome across all sectors – including health."
Professor Mendis' research focuses on the challenges to intellectual property rights as a result of emerging technologies. Her article on Bioprinting was featured in The Conversation earlier this year and her edited book titled '3D Printing and Beyond: Intellectual Property and Regulation' was published last year by Edward Elgar publishers. She continues to investigate the policy implications of 3D printing during the Covid-19 pandemic.
The Co-Investigators of this project include Dr Julie Robson (Bournemouth University, UK), Dr Rosa Ballardini (University of Lapland, Finland), Professor Dr Jan Nordemann (Nordemann Rechtsanwaelte and Humboldt University, Germany), Professor Phill Dickens (Added Scientific Ltd, UK), Dr Maria del Carmen Calatrava-Moreno (Technopolis Group, Austria), and Hans Brorsen (Attourney-at-Law, Germany).