Journalists in Nepal are suffering significant psychological and financial distress because of Covid-19, a study led by Bournemouth University has found.
Impact of Covid-19 on journalism in Nepal, a report based on the study, was released on Wednesday by Dr Yuba Raj Khatiwada, Nepal's Honourable Minister of Finance, and Communication and Information Technology.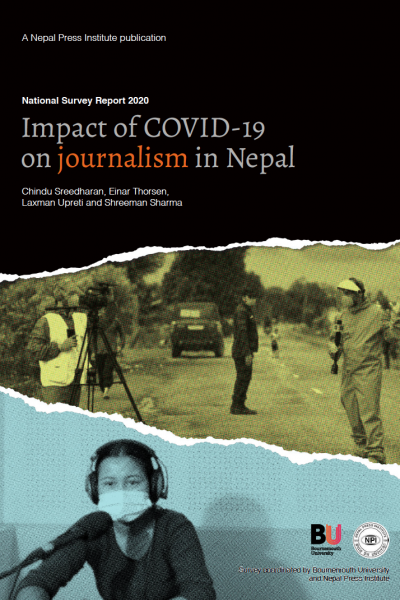 "This helps government to better understand the situation of journalists," Dr Khatiwada said launching the report. "From this, I came to know about the difficulties the journalists have been facing. As other industries, Covid-19 has seriously impacted journalism sector. I kindly request media houses to approach the government to explore opportunities for support from different mechanisms such as the Covid-19 Relief Fund."
The study, undertaken by Bournemouth University and the Nepal Press Institute, is based on a national survey, which saw detailed responses from a total of 1,134 journalists, from all the seven provinces of Nepal. Its findings show that 83 per cent of Nepali journalists experienced increased vulnerability, 75 per cent increased anxiety, and 62 per cent grief.
Twenty-five per cent of the respondents also reported that they suffered from depression.
"The pandemic has affected Nepali journalists financially as well," said Dr Chindu Sreedharan, the lead author of the report. "Thirty-eight per of respondents said they have had to take a pay cut, and 6 per cent reported they have lost their jobs."
The global health crisis has had a severe impact on news organisations, too. The production of original news content has declined, Dr Sreedharan said, and so had news dissemination, with news outlets responding to the pandemic with reduced publication and newscasts.
According to the report, 55 per cent of respondents who worked for print outlets reported reduction in number of pages published, and 48 per cent respondents reported reduced print frequency. Broadcast and radio news, too, followed the same pattern, with journalists from the sectors reporting reduced news production and dissemination.
The survey assessed journalists' disaster preparedness, and found that despite Nepal's vulnerability to natural disasters, a majority of journalists self-assessed themselves as having low levels of preparedness.
"These trends are deeply worrying, especially during a crisis," said Prof Einar Thorsen, who co-authored the report with Dr Sreedharan, Laxman Upreti, and Shreeman Sharma. "The quality of news content and the level of dissemination are critical to keeping the civil society informed.
"Equally, the disaster resilience of journalists and the news industry play a key role in strengthening the preparedness of a society to face future disasters. So it is critical that the government, news organisations, and journalism associations work together to find ways to reverse the trends our study has highlighted."
The report makes recommendations in 10 key areas to address the situation, including increased investment for building capacity among journalists and news organisations in Nepal. It can be accessed in English and Nepali.