This Saturday it's World Mental Health Day. It's safe to say our wellbeing has been challenged this year and prioritising mental health has shown to be more important than ever.
But how can we prioritise our mental health? One word: nature. Research has proven that spending time in nature can benefit both our mental and physical wellbeing. In fact, it can improve our mood, reduce stress or anger, aid anxiety, depression and seasonal affective disorder, and even improve our confidence. You can read more about that here.
Green spaces are accessible wherever we are, but are sometimes hard find, so we've put together this list of some of our community's favourite nature retreats, from local strolls to famed viewpoints. Nature is free to us all, so take advantage and enjoy, this Mental Health Day, and every other day.
Just a walk away:
Talbot Heath Nature Reserve, Poole. Visit the website.
Perfect for: a lunchtime walk from Talbot Campus
Just down the hill from Talbot Campus, Talbot Heath is a designated Site of Special Scientific Interest (SSSI), being a shining example of original Dorset heathland and a natural oasis in the suburban area.
How to get there from Talbot:
The Reserve is just a 15 minute walk from Talbot Campus. Simply head through the AUB Campus into Talbot Village, and use the entrance on Purchase Road before enjoying a refreshing break in nature. Find the route here.
Bourne Valley Greenway, Bournemouth. Visit the website.
Perfect for: a longer walk or cycle through beautiful hidden gems.
"The Bourne Valley is an asset to us all - a tranquil oasis, often just yards from busy urban streets" - Roger Yates, local resident
The Greenway was completed in 2004, and runs 7 miles from Bournemouth Pier and through Canford Heath, Talbot Heath, Coy Pond and many other hidden gems that you may not have found before.
The Greenway is a safe, quiet and tranquil alternative to travelling on the roads, so is perfect for a weekend walk or cycle. The route is wheelchair-friendly from the Lower Gardens through to Coy Park. Find the route here.
Hengistbury Head, Bournemouth. Visit the website.
Perfect for: a winters trip along the clifftops and a great slice of cake.
Could you wish for anything more than a land train, fresh walks with 360oc sea views and a slice of cake and cuppa to finish it off? We think not, and neither do the one million people who visit Hengistbury Head every year! The headland is an outstanding site for wildlife and archaeology, and is wrapped fully by a peaceful section beach and Mudeford Spit (home to the most costly beach huts in the country!).
The Reserve is accessible to all, with the land train having specially designed carriages for wheelchairs and the headland accessible by a route through the woodland.
How to get there from Lansdowne:
Accessible via the beach, along the cliff face or through Christchurch, the journey to Hengistbury Head is as delightful as the place itself!
By foot/bike: The best route to go is simply east along the cliff front – when you get to the end of the beach, after about 20 minutes, you've made it! The Visitor Centre also has a free DIY servicing station, bike racks and pump to use.
By bus: No bus arrives directly to the Head, but the 33 can take you to the Broadway shops which is only a 5-minute walk away. Alternatively, you could get the bus to Tuckton and then enjoy the Vintage Ferry Service. Find the options here.
Queens Park, Bournemouth. Visit the website here.
Winton Recreation Ground, Bournemouth. Visit the website here.
Perfect for: an evening stroll in a local park
A five or 10-minute walk from Winton high street, Winton Recreation Ground and Queens Park are both Green Flag winning parks. Queens Park Golf Course is home to a range of woodland, open spaces, and even a formal golf course. At sunset, the park captures the final rays of the day perfectly.
Winton Recreation Ground is a small oasis in the busy area of Winton, and is perfect for anyone wanting sports as it hosts the Richmond Park bowls club, a cycle track, playground, cricket pitch and six tennis courts – which you can get an annual membership for only £36!
Both these parks are perfect, particularly if you live around Winton or Charminster, for an evening escape with no effort.
How to get there from Lansdowne:
By bike/foot: the easiest way is to travel with no vehicle. Just north of the U3 route in Charminster is the towering St. Alban's Church. Off the main road, head left up Fitzharris Avenue for Winton Recreation Ground, or right along Richmond Park Avenue for Queens Park. Find the route here.
A little further (but worth it!)
Studland Village to Old Harry Rocks, Poole. Visit the website.
Perfect for: an autumn stroll to one of the south coasts best known landmarks!
Thought to have been named after a famous local pirate, Old Harry is a single stack of chalk standing out in the sea, which you can even see from Bournemouth. Part of the Jurassic Coast World Heritage Site, the route to Old Harry is a favourite in Dorset to cycle, walk and go ird and butterfly watching surrounded by wildflowers. It offers views over Swanage, Studland Bay, Wareham and the Needles of the Isle of Wight, and of course Old Harry itself!
If you're planning to walk to Old Harry, we recommend starting at Studland Village and take this route, or travelling a little further to explore Swanage and walking along the clifftop. If you really want the full glory, you can do both with this spectacular coastal walk.
How to get there from Lansdowne:
By bus: The Breezer 50 bus is the one to choose. Leaving from Bournemouth train station, it travels through Sandbanks, across the Ferry, along Studland Bay, past Corfe Castle and the Blue Pool, before ending at Swanage. Any of the stops on the route offer a fantastic day out. Find the route here.
By bike: The ride to Studland Village is about 8.5 miles long, and they are all spectacular! Simply following the coastline and being a pedestrian on the ferry, you can't get lost. Find the route here.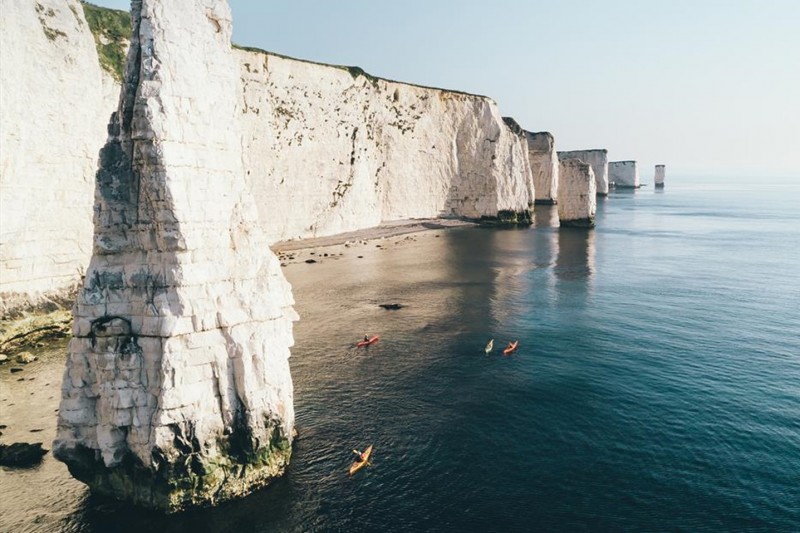 The Stour Valley & Kingfisher Barn Visitor Centre, Poole. Visit the website.
Perfect for: a relaxing walk down by the riverside.
The Stour Valley is a picturesque three-mile stretch of river, surrounded by woodland and meadows. The Visitor Centre offers a host of events and activities, and the Stour can entertain you for a quick escape from the house or for a whole day river dipping, exploring the arboretum which forms part of one trail, and of course enjoying a picnic!
There are a number of walks to choose from, depending on what wildlife you want to see and how long you want to spend. The Visitor Centre offers guidance, or you can find the options here. There is a disabled fishing platform and the Visitor Centre is fully accessible.
How to get there from Lansdowne:
By bike: The quietest route by bike takes you through the residential streets of Charminster, Winton and Moordown. Taking about half an hour, you can find the route here.
By bus: You can hop on the 4 or the 13 until the Granby Road stop and be at the Visitor Centre within half an hour. Find the route here.
St Catherine's Hill Nature Reserve, Christchurch. Visit the website.
Perfect for: fantastic views
This heathland and coniferous forest is crowned the highest area in Christchurch so has some fantastic views. It's also a SSSI and a Special Area of Conservation, being home to many important species including the Dartford Warbler and the sand lizard.
It is a favourite stop to hike to the lookout or go mountain biking.
How to get there from Lansdowne:
By bike: The route, which passes through Kings Park and over the River Stour is almost 5 miles long. Find the route here.
By bus: The X1/X2 leave every 30 minutes and The Grove Top bus stop, which you'll reach after half an hour or so, is right outside an entrance to the park. Find the route here.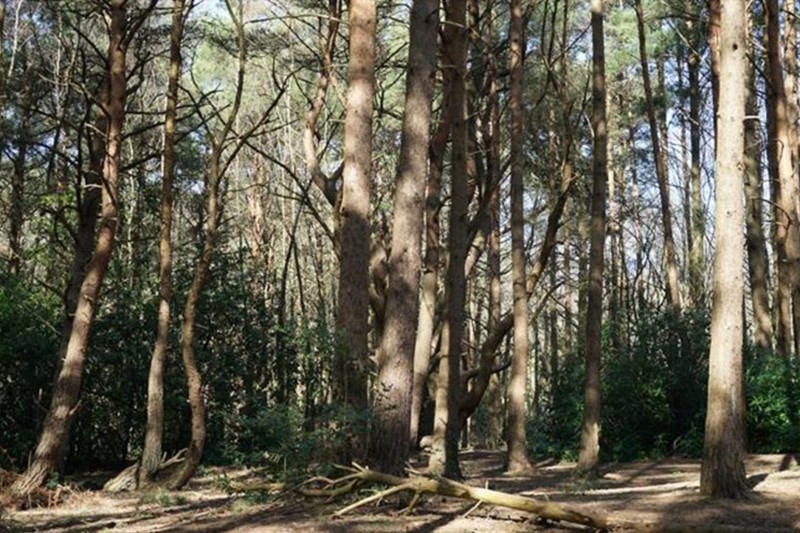 Canford Heath Nature Reserve, Poole. Visit the website.
Perfect for: an easy weekend walk
Canford Heath is one of the largest remaining areas of heathland in Dorset, and is also a SSSI. This is unsurprising as it's home to every single one of Britain's reptile species!
You can easily spend a couple of hours walking or cycling the paths around the Reserve, exploring and enjoying its wilderness. There is an official route to cycle, but also a network of bridleways if you want to self-navigate.
How to get there from Lansdowne:
There are a number of entrances to the Reserve, though we would recommend the entrance next to Knighton Heath Golf Club.
By bike: it takes about half an hour to cycle the 4.5 miles from Lansdowne along the Bournemouth Gardens and past Bourne Valley Nature Reserve - which is also worth a visit! Find the route here.
By bus: the bus journey is quickest if you can hop on the 6. Otherwise you'll have one change to make, but the journey still shouldn't take more than an hour. Find the options here.
---------------------------
If you're a hiker, there are also a range of challenging routes across Dorset, starting from our doorsteps. You can find more information here. And of course, let's not forget the image of Bournemouth – the beach!
We are fortunate in Bournemouth to be surrounded by some beautiful natural landscapes. We hope you enjoy these routes – let us know if you do, and any others that you love by contacting [email protected].
"Allow nature's peace to flow into you as sunshine flows into trees." - John Muir