A new exhibition at Salisbury Cathedral features an animated short film designed and created by the Faculty of Media & Communication's RedBalloon Productions.
The Cathedral That Moved exhibition commemorates the 800th anniversary of Salisbury Cathedral at its current site. In 1220, the Cathedral moved from its original location on the top of a windy and exposed hill, now called Old Sarum, to the sheltered valley below.
Cathedral Archivist Emily Naish said: "As part of our celebrations we wanted to find a fun way of telling the story of why the Cathedral moved, to engage children and adults alike.
"RedBalloon Productions at Bournemouth University were the obvious choice - we'd already been impressed by the films they had created for us for another anniversary five years earlier - that of Magna Carta in 2015.
"The new animation has been a great hit already with visitors both in person and also on social media. The animation has really helped to attract visitors in to see the whole of 'The Cathedral that Moved' mini exhibition, showcasing some of the ancient documents and books from the Cathedral's archive and library kept by the medieval priests."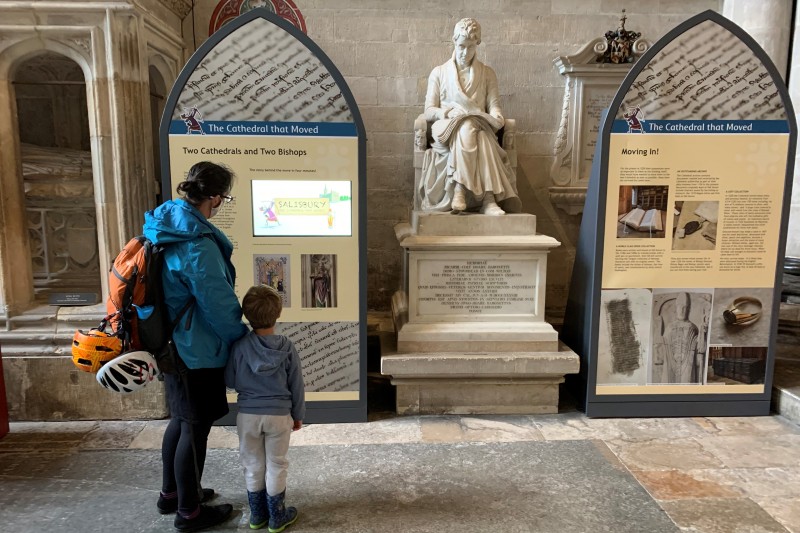 The illustrations for The Cathedral That Moved animation were created by PhD student Xue Han, with animation by FMC graduate Vitor Vilela. RedBalloon Executive Producer Stephanie Farmer produced and wrote the story based on folklore provided by Emily.
Stephanie said: "We love working with the Cathedral!  We have worked on several projects for them since Magna Carta and this particular project kept us busy through the summer lockdown. It was a great team effort."
Emily added: "Working with Stephanie and her team was a great pleasure. If you are looking for a professional and well thought through film or animation I would definitely recommend them. Not only were they very professional – checking historical facts and details such as the style of medieval costume - but also great fun.
"They were very happy to accommodate our own ideas but also suggested many of their own. The animation is currently a key part of our exhibition which will be available for visitors to see until Spring 2021 but we are already planning to have it available on our website in the longer term and to use it in the Cathedral's work with schools."
To find out more about the exhibition, visit the Salisbury Cathedral website.