The Bournemouth University Business School (BUBS) held its annual Employability Awards on Wednesday 16 December, celebrating the successful placement and internships undertaken by BUBS students.
The awards, first held in 2017, were hosted virtually this year in true 2020 style, and celebrated the achievements and contributions of over 60 BU students as part of the faculty's Student Talent Employability Engagement Programme (STEEP). The STEEP programme is designed to develop professional and employable skills through workshops and events, with the aim to prepare students for their future careers.
Dr Philip Ryland, Associate Dean for Student Experience at the Bournemouth University Business School and Chair of the Awards Panel, said: "One of the great pleasures for me in leading the Business School's Employability Awards has been the opportunity to read about the interesting, innovative and often highly challenging activities that our students have been involved with, or indeed have been leading on, whilst on placement."
BU graduate and a Director at LUSH, Karl Bygrave, who congratulated and shared insights with the students, said: "You've gained experience that would take years to acquire, and you've got it in a few months due to Covid-19."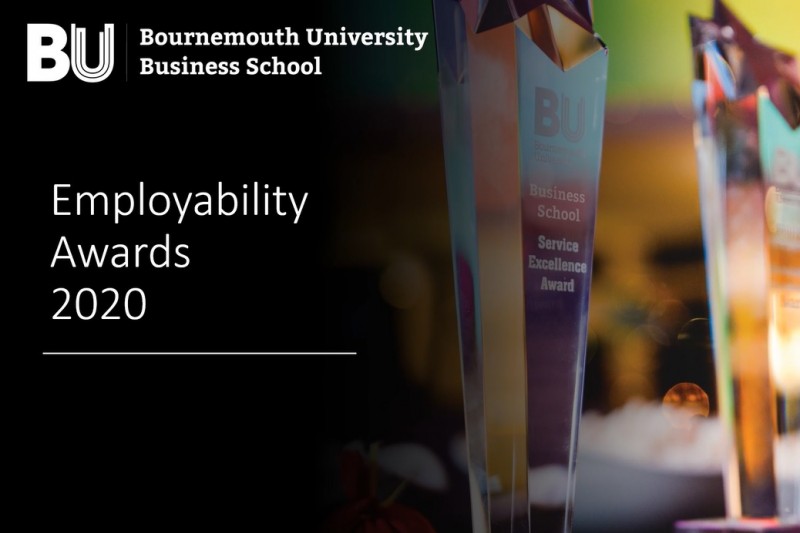 The virtual ceremony saw violinist Stefan Defilet play in the interludes and the comments section was lively and enthusiastic with applause for each other's achievements. Citizenship Overall Award winner, Abbie Rendell, commented: "I am very pleased and proud to receive the citizenship award. Congratulations to the other winners, it was a wonderful ceremony."
Kieran Ferguson, Overall Award winner for Service Excellence, reflected: "I am truly grateful for the appreciation shown on behalf of Bournemouth University. The award is a testament to the positive ethos I tried to bring to my placement every day and I would like to thank everybody who motivated me along the way, from George leading the office, to my family at home." 
While each award recognised several winners for their successful placements, six overall winners were recognised with awards in the six categories.
The winners were:
Citizenship Award: Abbie Rendell, BSc (Hons) Sports Development & Coaching Sciences with Danesfield C of E School 
Financial Impact Award: Benjamin Haskell, BA (Hons) Accounting & Finance with Savills Investment Management 
Global Engagement Award: Nora Aurora Laiho, BA (Hons) Business Studies with University of Stavanger 
Innovation Award: Emily Francis, BA (Hons) Business Studies with Microsoft 
Outstanding Contribution Award: Ben Jones, BSc (Hons) Marketing with IBM 
Service Excellence Award: Kieran Ferguson, BA (Hons) Business Studies with Drench
STEEP offers workshops that concentrate on the key skills needed when applying for work, inspiring, challenging and building confidence and industry knowledge in those who take part.
Find more information about STEEP as well as employability opportunities open to all BU students, including the Global Talent Programme.