A five-year study tracking five species of fish on the River Severn has revealed new insight into fish movement within our rivers and the negative impact of artificial barriers.
Until now, scientists have had little information on how fish travel within rivers.  Researchers from Bournemouth University and the University of Hull used advanced hydro acoustic technology, implanting tiny transmitters to track individual fish. Each tag emits a unique high frequency audio signal that is picked up by receivers placed along the length of the river. 
This research has been published in a new report that shows very wide-ranging differences between individual fish, and how artificial barriers such as weirs on the river prevent fish moving freely - a critical factor in population decline.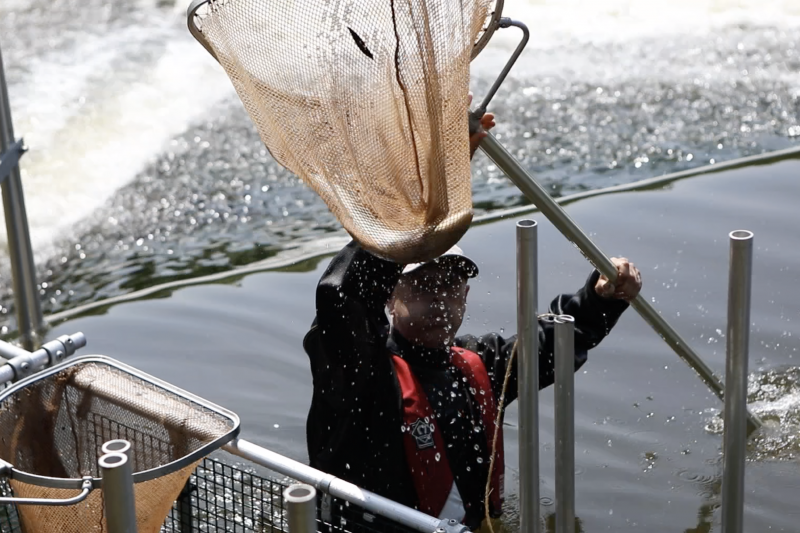 Researcher nets a twaite shad for acoustic tagging. Image credit: Nina Constable Media
Barriers in rivers have an impact on the migration journeys that some fish must take to access good spawning habitats upriver, as well as altering the habitat itself. The cumulative effect of successive barriers was significant.
The research is being used by the Unlocking the Severn project which aims to reconnect hundreds of miles of river habitat for fish in order to boost biodiversity.
The project is working to restore the fortunes of one of the UK's rarest fish, the twaite shad, by providing fish passage at four big weirs on the River Severn and two weirs on the River Teme tributary. This research was able to document the positive impact on the twaite shad, following the modification of the Powick Weir barrier on the River Teme.
Mike Morris, CEO of the Severn Rivers Trust said: "We are very excited to be part of this vital scientific effort to uncover some of the mysteries surrounding the fish in our UK waters and the many threats that they face. We must act now to protect the fragile ecosystems and species of the River Severn and ensure that they can be cherished and enjoyed by future generations."
Dr Catherine Gutmann Roberts, a Postdoctoral Researcher in Migration Ecology at Bournemouth University, worked on the project.  She secured funding to produce an animation that illustrates the research findings, showing how the different species move through the River Severn and the differences amongst the tagged fish.
She said: "My PhD involved tracking the barbel but we were interested to see how the data from all five species fitted together and I wanted to ensure that those that helped collect the data such as anglers and citizen scientists were able to access the results in a way they understood."
Find about more about the Unlocking the Severn project and see the animation at: https://www.unlockingthesevern.co.uk/fish-tracker/