BU students had the opportunity to put their questions to AFC Bournemouth and Wales midfielder David Brooks.
The virtual Q&A session took place ahead of the BU Big Match, a designated game each season which celebrates the partnership between Bournemouth University and AFC Bournemouth. This year's game will take place against Brentford on Saturday 24 April.
Brooks spoke to students about his career in football, from starting out playing Sunday games as a child in his hometown of Warrington to being picked up by the Manchester City academy and playing for the Wales international team alongside Gareth Bale.
Students asked a range of questions, covering everything from nutrition before a match to the mindset needed to deal with the pressures and expectation that come alongside a top flight football career. Brooks was also asked about what makes a good manager and the rehabilitation he's undertaking to help with a current ankle injury.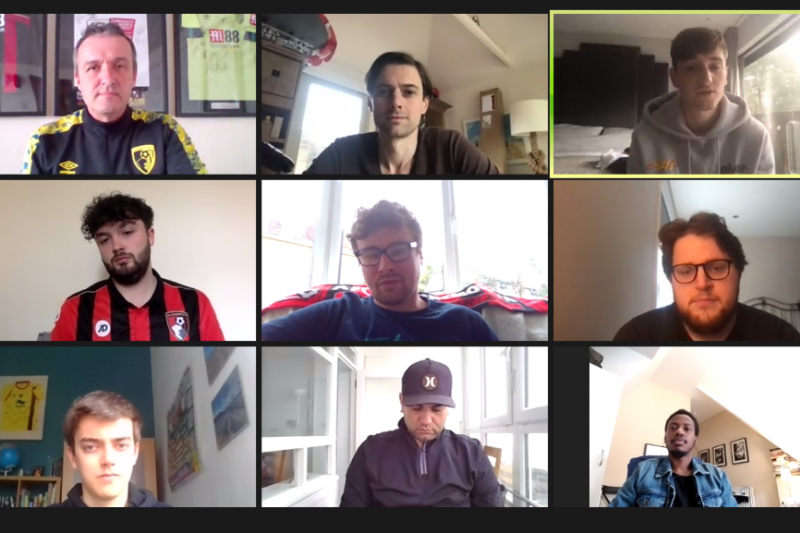 When asked about the mindset needed going into games and how he dealt with making mistakes, he said: "You have to take risks and 75% of the time, they don't pay off so you can't get too bogged down in it because the next one might be the match winner.
"I kind of like the pressure – it's nice to think that people think you're a good player and expect a lot from you. It's a welcome pressure for any player that wants to be the best."
He added that, despite the distance from his hometown and family and friends, he enjoyed living in Bournemouth.
"It's an eight-hour journey to get home [to Warrington] and back, but all the lads were really nice and I just felt at home and at ease before moving down here.
"It's a very nice place and it's great being able to chill on the beach when it's nice weather."  
Dr Keith Parry, Deputy Head of Department for the Department of Sport and Event Management, said: "This event provided students with a unique opportunity to talk with an elite level athlete.
"David's openness and honesty was really refreshing and provided students on courses such as nutrition, sport coaching and business with insights into the life of an international footballer.
"His advice to students on finding something that they are passionate about and then working hard to pursue it was particularly useful."