AFC Bournemouth midfielder participated in a mock press conference for Bournemouth University journalism and media students, giving them vital experience in sports journalism.
The students were joined by the AFC Bournemouth midfielder, alongside AFC Bournemouth's Head of Media and Communications Anthony Marshall, to allow students to experience the virtual press conferences the Club are currently running under Covid-19 regulations.
Students took it in turns to pose questions to Jack Wilshere, who answered in the press conference environment. Students were then asked to write a story based on the conference, with the best story chosen for publication on the Cherries' official website.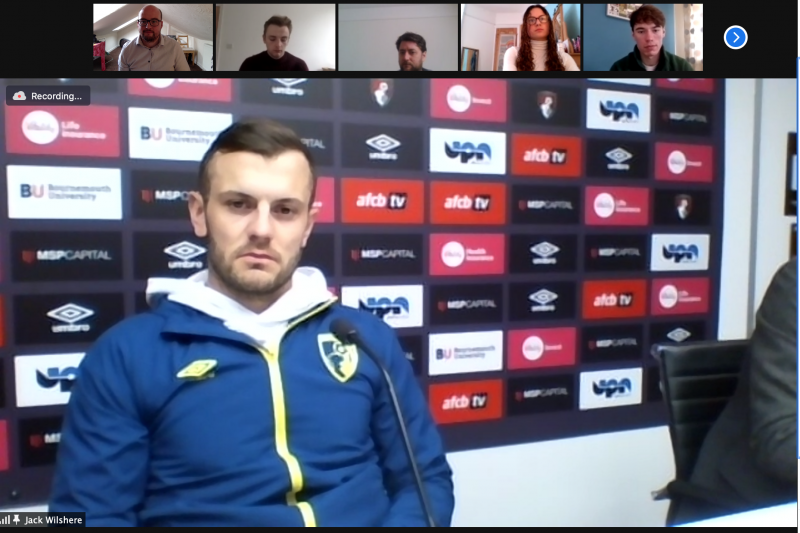 Wilshere, a two-time FA Cup winner and England international, answered questions on the Cherries current league position, a potential return to the Premier League, the mid-season change of manager, and the prospects of the England team in preparation for Euro 2020.
Anthony Marshall then spoke with students to offer insight into how the Club works with journalists, how they have been operating during Covid-restrictions, and how students can begin to build relationships with organisations to help their future career prospects.
James Gray, a multimedia journalism (BAMMJ) student, whose story about the event was chosen to appear on the afcb.co.uk website, said, "I thought the press conference was thoroughly enjoyable and I'm very grateful to Bournemouth University for giving me and my fellow BAMMJ's the opportunity in the first place. It's certainly not every day that you get the chance to speak to a former England footballer. This will definitely be an experience I remember fondly when I look back at my time at university."
The event was organised as a part of the official partnership between BU and the Cherries, Bournemouth University is the official higher education partner of AFC Bournemouth. The partnership is celebrated each year as one AFC Bournemouth game is designated the BU Big Match. This year's game takes place at the Vitality Stadium against Brentford on 24th April.  
For more information about the partnership between BU and AFC Bournemouth, visit www.bournemouth.ac.uk/afc-bournemouth