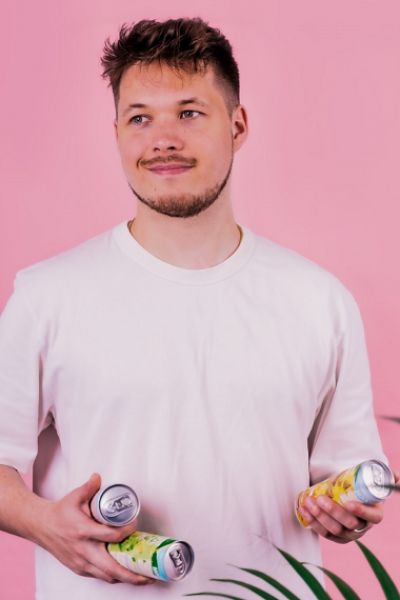 A placement in product innovation for a global food and drink brand inspired BU graduate, David Brown, to set out on his latest entrepreneurial venture.
David, who graduated in 2020, knew he was destined for a career as a business owner having had early success with his own clothing line while still at secondary school. David went on to pursue his passions as an electronic music producer and record label owner, all before enrolling on a university degree to bolster his life experiences.
It was during the placement year of his business studies degree that David developed a new interest in the food and drink sector. He said: "I was fortunate to land a role with Danone focussed on innovation and the acceleration of new products. It was like a start-up environment within a corporate organisation which was the perfect fit for me. After 14 months of working with the company I fell in love with the food and drink space and it spurred me on to what I am doing now."
David has taken that experience – and his own experiences as a consumer – to launch Nocktail, a challenger brand in the non-alcoholic cocktail market. In a short space of time he has worked to develop the brand, recipes, packaging and distribution and secured orders from around the globe, including Australia. He said: "Many people are becoming more mindful about their drinking habits and are changing their relationship with alcohol to lead healthier and happier lives. After three years as a university student and time spent in the corporate world, both of which were embedded with a drinking culture, I could identify with this shift. My go to drink was a cocktail and yet when I started looking for non-alcoholic alternatives I found they were unexciting and failed to match the experiences of their alcoholic counterparts.
"My mission was to re-invent the mocktail for a new wave of mindful millennials. I wanted to create a drink that was low in sugar and which re-created the same mouth sensations that an alcoholic drink traditionally provides. I also wanted to create a brand that empowers young people to feel comfortable about their drinking choices and that connected with their personalities and lifestyle."
The past year has had all the highs and lows associated with new business ventures and David is now building a team around him who can help get the product to customers via the most effective channels. He said: "Our digital presence has been key in reaching consumers directly while we begin conversations with supermarkets and distribute the product via independent bars, cafes and stores. It continues to be a steep learning curve but it's something I love doing. And if it wasn't for my university degree – particularly the placement – it would have happened in the same way. The decision to go to university turned out to be a good one, not just for the student experience but for setting me out on my current path."
David is BU's entrant to the Santander Universities Entrepreneurship Awards, a competition set up to support university students and graduates who have started their own business. The competition offers cash prizes, mentoring and start-up support to entrepreneurs form across the Santander partner university network.