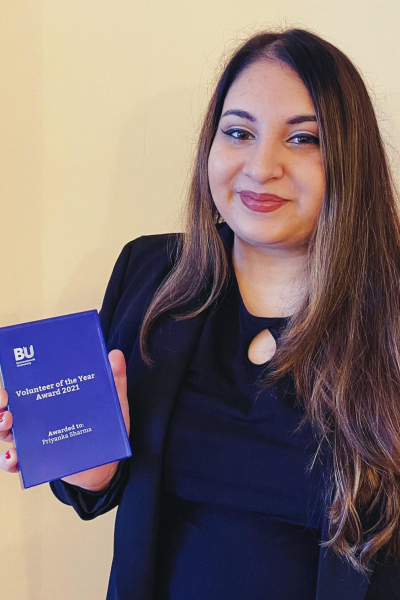 A psychology graduate who has supported students through guest talks, mentoring and by sharing career advice has been named BU's Alumni Volunteer of the Year for 2021.
Priyanka Sharma graduated in 2017 and has gone on to forge a career in organisational psychology, learning and development. Having worked in the property and insurance sectors, this year she launched her own business, Mindtrail, to deliver psychology-based courses for organisations wanting to build more effective teams.
Priyanka's award win recognises the time she has given to support students over the past 18 months, particularly during the first lockdown when many were unable to access placements and other professional experiences.
Nicola Gregory, Senior Lecturer in Psychology said: "Priyanka has made an outstanding contribution to the department and BU this year and is a true inspiration to our students."
Every year Bournemouth University recognises a graduate who has volunteered their time and expertise to support students and staff. Priyanka was one of more than 180 alumni who volunteered with BU over the past academic year, collectively providing more than 1,000 hours of support.
Michelle Poole-Winter, Alumni Relations Officer who oversees the volunteering programme, said: "Priyanka is always approachable and happy to support BU's students and staff. As a mentor she is generous with her valuable time, supporting and advising students on the programme. She is calm, knowledgeable and provides relevant theory as well as background research; as a guest speaker she is eloquent, informative and engaging. Priyanka is enthusiastic and passionate about her work and this comes across in every way."
Reflecting on her involvement with BU and the award win, Priyanka said: "I feel incredibly honoured and humbled to have received this award. My time at Bournemouth University, studying for my degree in psychology, was a pivotal step in shaping the career I have today. For that I am grateful, so since graduating I'm always looking to give back to BU and support in any way I can. It's been a rewarding experience supporting students at BU as a mentor as they navigate their career options and sharing my experiences during educational events and talks. I feel privileged to be able to contribute to the great work that the alumni and faculty teams are doing to support students and graduates, and I look forward to continuing my support."