Bournemouth University's (BU) RedBalloon has helped to celebrate the 20th anniversary of the Jurassic Coast receiving World Heritage status by creating an animated film following the journey of a pebble from the Triassic age through to modern day.
RedBalloon is the professional production department of BU's Faculty of Media and Communication, and were commissioned by the Jurassic Coast Trust to create an animation to mark the anniversary of the granting of the significant status.
The Jurassic Coast is the term used for the stretch of coastline between Exmouth, Devon, and Swanage in Dorset. The 95-mile stretch is world famous for its natural heritage, and its fossils, which provide insight into the history of the South Coast, its geography, and the creatures that once lived there.
It is England's only natural World Heritage Site, designated by UNESCO in 2001.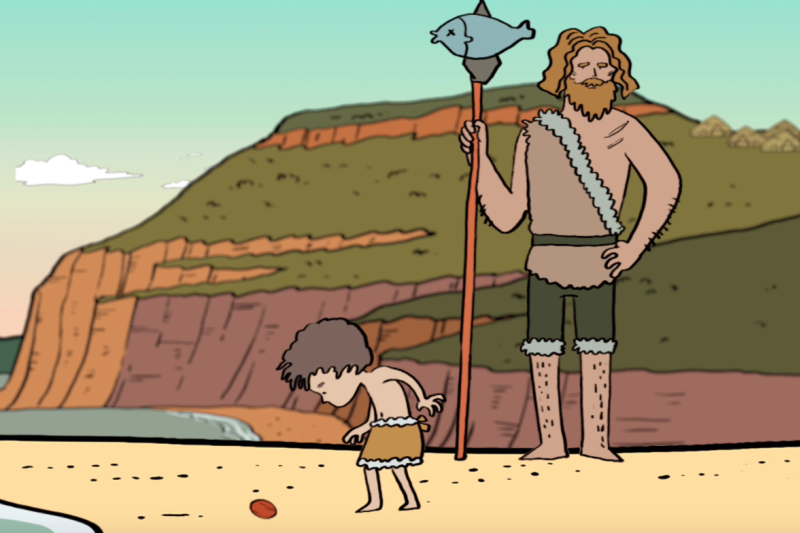 Steph Farmer, Executive Producer at Red Balloon, produced and directed the animation, and said, "We were delighted to be asked to work on this project for the Jurassic Coast Trust and enjoyed working with them to develop the idea they had for the journey of a pebble as it endures encounters with dinosaurs, sea level rises and an ice age. The project is also linked to the pebble paintings that are being made across the coast at visitor centres. We really enjoyed learning more about our wonderful coastline and it certainly makes me stop and think when I throw a pebble into the sea, about where it's come from and where it might end up!"
Dr Lauren Sewell, Earth Science Digital Content Creator at Jurassic Coast Trust, said, "It was fantastic to see our visions beautifully brought to life by the talented RedBalloon team at Bournemouth University".
The story was illustrated by PhD student Xue Han, animated and edited by RedBalloon's Vitor Vilela.  RedBalloon regularly uses BU students in the delivery of its work, and The Pebble also included credits MA Sound Design students Lucy Jacobs and George Pertwee.
The animation is available to watch on YouTube. For more information about the Jurassic Coast, visit https://jurassiccoast.org/ and to see more projects by RedBalloon, visit https://www.redballoon.co.uk/