IT Services will conduct an upgrade to a newer version of Windows 10 in batches, starting from Tuesday 15 February 2022, with most devices receiving the upgrade by the end of April 2022.
Please be aware, unlike security updates this process can take around 50 minutes to complete. You will be unable to use the computer whilst it is being upgraded. Please ensure all work is saved at regular intervals as computers will need to reboot to complete the upgrade.  
All devices affected will receive the upgrade notification below: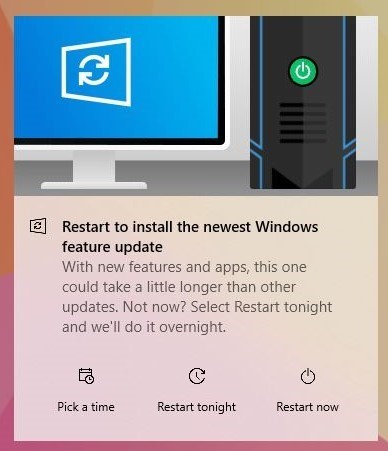 This upgrade will ensure BU Windows 10 computers continue to receive Microsoft security updates and will keep us within Microsoft support.
Any computer not able to upgrade may need to be triggered individually via instruction from IT Services. Any computer not upgraded by May will be forced to do so via Microsoft directly. 
Please note: In the unlikely event that the upgrade is in progress on a PC you have booked in one of the Open Access Centres or in the Library, you will be unable to login and will need to book/login to a different PC. We apologise for any inconvenience this may cause.
If you have any queries about this Windows 10 upgrade, please contact the IT Service Desk on 01202 965515 or freephone 0808 196 2332.