Bournemouth University sports lecturer and cricket writer Dr Rafaelle Nicholson fronted a special event to celebrate a new exhibition on The Evolution of Women's Cricket, at Lord's on International Women's Day, Tuesday 8 March.
The all-day event provided a fascinating insight into the inspirational and colourful history of women's cricket, with acclaimed cricket writer and sports lecturer Dr Rafaelle Nicholson, who led a talk about her insightful book 'Ladies and Lord's: A History of Women's Cricket in Britain'.
Dr Nicholson, said: "I'm delighted that we are finally able to celebrate this exhibition, after two years of waiting! I was so excited to be asked to be involved in putting it together back in 2018, and we're very grateful to everyone who kindly lent or donated items for display.
"With the World Cup about to begin, it's important that we look back as well as forward, and celebrate the pioneers of our sport. Exhibitions like this one allow my research into the history of women's cricket to reach more people, and help women feel they have a place in the sport."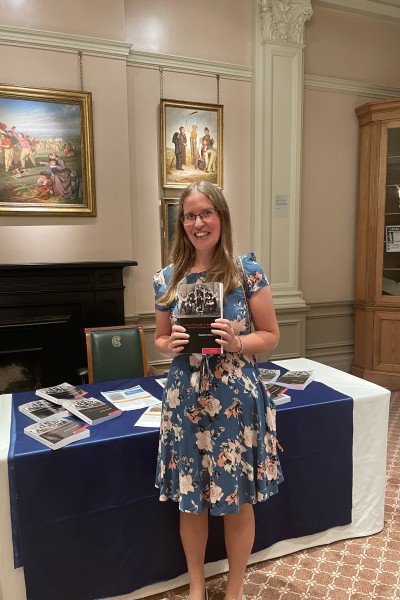 Dr Rafaelle Nicholson at the Cricket Society Book of the Year Awards
The day also included a Q&A panel discussion hosted by journalist and commentator Isabelle Duncan, who was joined by a number of former England stars including Barbara Daniels, Claire Taylor and Jane Powell. The event also included a visit to the Marylebone Cricket Club (MCC) Museum for an exclusive tour of the exhibition, guided by its curator and MCC Collections & Programmes Manager, Charlotte Goodhew.
A collection of memorabilia from the pioneering women who have transformed the game was on display during the event. An original 'Red' English Lady Cricket costume from 1888, and Betty Snowball's trunk used during England's first tour of Australia and New Zealand in 1934-1935 was on display, as well as the first women's World Cup from 1973, which predates the men's tournament by two years.
The event was a celebration of International Women's Day and women's cricket, following the recent thrilling women's Ashes series held in Australia, the forthcoming ICC Women's Cricket World Cup in New Zealand and ahead of history being made with England's women competing in the Commonwealth Games this summer.