Bournemouth University (BU) students have supported the reimagining of the town centres of Bournemouth, Christchurch and Poole (BCP) as part of a real-life consultancy project working with the BCP Future Lab project, led by a locally based urban design company, Feria Urbanism.
This was a project commissioned by the R³ Retail, Leisure, and Hospitality Taskforce. This was a group set up during the pandemic that brought together industry bodies representing local businesses from across Bournemouth, Christchurch, and Poole and BCP Council.
Around 80 students on the BU Business School Foundation Year course have surveyed the high streets of Dorset by using their expertise as a catalyst to improve, grow and advance the region as part of an assignment project.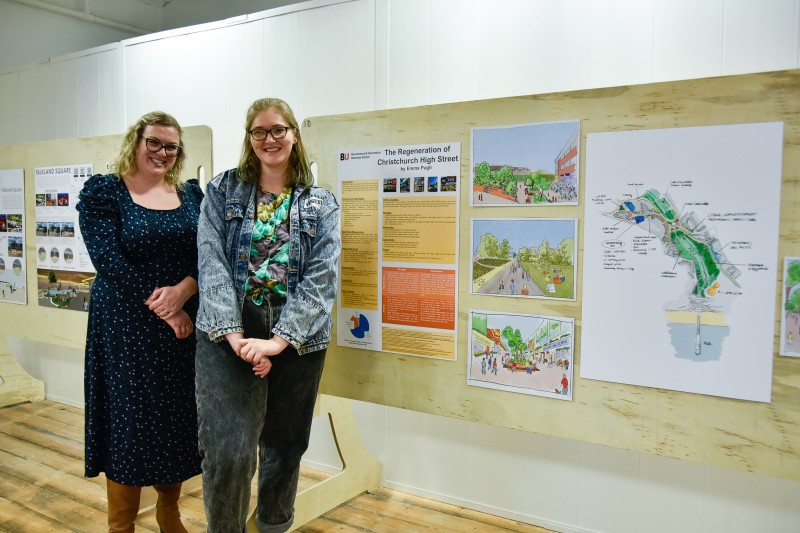 BU academic Laura Roper and student Emma Pugh
The students collected data from members of the public and shop owners to explore what improvements they would like to see on their high street to provide recommendations to the BCP Future Lab, some of which include:
Use the Historic Funding in Poole to restore buildings with historical value to attract more tourists to the high streets
Encourage the Christchurch Monday market to hold events in Saxon Square and become the heart of the community
Use the historical features of Christchurch more to increase tourist attraction with a focus on local businesses holding events such as summer fetes or Christmas markets
To increase footfall traffic and pedestrianise the high streets during peak hours to support social distancing on narrow streets and allow locals to feel safer in the towns
Have greater focus on prioritising older people in the towns by holding events that are oriented around the older demographic
Increase outdoor seating
Improve cleanliness and 'look' of towns through window-cleaning or pot-planting fundraising initiatives held by the local Scouts clubs or schools.
The BCP Future Lab is launching 'Future Stories: Tales from BCP Future Lab' – a book full of bold ideas, visionary changes and an Exhibition as the conclusion of the BCP Future Lab project on 17 March 2022. The exhibition continues until 27 March at Bobby & Co., The Square, Bournemouth.
Two students from the foundation course have been selected to display their academic posters, including their data analysis and recommendations to showcase their contributions to the project.
Foundation Year Programme Leader Laura Roper said, "Seeing the students immerse themselves into regenerating local high streets has been fantastic. The quality of work is of such a high standard and the students should feel proud that their hard work and recommendations are being recognised by the BCP Council.
"Encouraging students to engage with local economies is a key part of the course and giving them the opportunity to work on a real-life project is a great experience which they can use in their future careers."
Dr Caroline Jackson, a member of the BCP Future Lab team, added, "BU students and staff are important people locally, both economically and socially. They have a particular perspective, especially when students have come from outside of the BCP area. They bring with them different experiences and ideas."
The work of the BU students is being extended beyond their assignment project and research from questionnaires and interviews will be used to regenerate other local projects in Dorset.
For more information about the Bournemouth University Business School Foundation course please contact [email protected] or visit BU Business School.