Eight businesses developed by BU students and graduates to help address the ecological crisis have been awarded funding following an open competition.
BU launched the Eco-Entrepreneurship Fund in partnership with Santander Universities UK to seek out and support fledgling businesses with an environmental benefit.  
On Wednesday (30 March), the shortlisted business owners delivered their pitches to a panel of judges who awarded grants of between £500 and £2,500.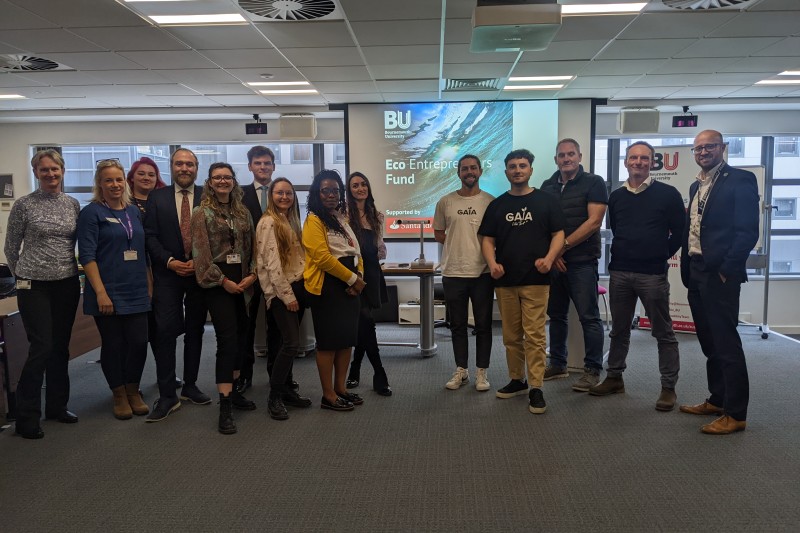 Lois Betts, Sustainability Manager at BU, said: "Innovation is needed if we are to achieve our net zero goals and restore the natural ecosystems which we depend on. To help support this innovation, BU has worked with Santander to bring funding direct to students and recent BU graduates to help them launch or grow their business ideas. We were blown away by the quality of ideas and the delivery of the eight pitches.
"Everyone can play their part in addressing the climate and ecological crisis and starting a business can be a powerful way to scale the impact you can have. It's great to see BU students putting their passion into action and I can't wait to see what they do with their funding."
The overall competition winners, who received a £2,500 grant, were Matt Cosier and Nick Cooper from Gaia Card, a membership scheme which connects customers with sustainable businesses while supporting reforestation.
Matt, who completed both his BSc in Business and Management and MSc in Marketing Management at BU before going on to found Gaia Card, said: "It really is an honour to win the Eco-Entrepreneurs Award. The businesses we went up against were amazing. It really does give me hope about the future to learn of so many revolutionary ideas and impactful businesses. We are excited to see where the funding can take us. This is just the start for Gaia, so make sure to follow us on our journey for more!"
Three other businesses – searchBOSH, an online rental platform; Four Acre Farm, a no-dig market garden and fruit orchard; and Gro Promo, an eco-printing company – were awarded £1,500 while the remaining four businesses received £500. The funding was provided by Santander and BU.
As well as receiving funding, the winners will have the opportunity to get business support from The Bournemouth University Social Entrepreneurs Forum.