To showcase female leadership and expose students to different types of leadership, Bournemouth University Business School Alumni and AFC Bournemouth women leaders came together to share their real-life examples of leadership at the Gender & Diversity Panel. The panellists discussed their experiences of leadership, the challenges, and how they've navigated difficult situations at work in management positions.
The Gender & Diversity Panel was part of a wider Alumni Day for Business & Management graduates, helping to prepare current Business & Management students for their future careers. The event also highlighted BU's commitment to inclusivity and equality. The Alumni Day also included a discussion around industry trends to help shape the Business & Management course curriculum at Bournemouth University.
Dr Parisa Gilani, BU Lecturer and Business & Management Alumni Panel Coordinator, said: "The Business & Management Alumni Panel plays an important role in developing a sense of community amongst students and graduates through acting as role models and mentors, sharing their industry experiences and keeping our curriculum relevant and forward-thinking. We are very lucky to have them!"
Matt Holt, Project Manager at Airbus Defence & Space and Business & Management graduate, said: "It was great to be back at Bournemouth University and to be able to contribute to the continuous development of the Business & Management course. The Gender & Diversity Panel is another example where Bournemouth University has great links with industry and can offer students a more rounded experience."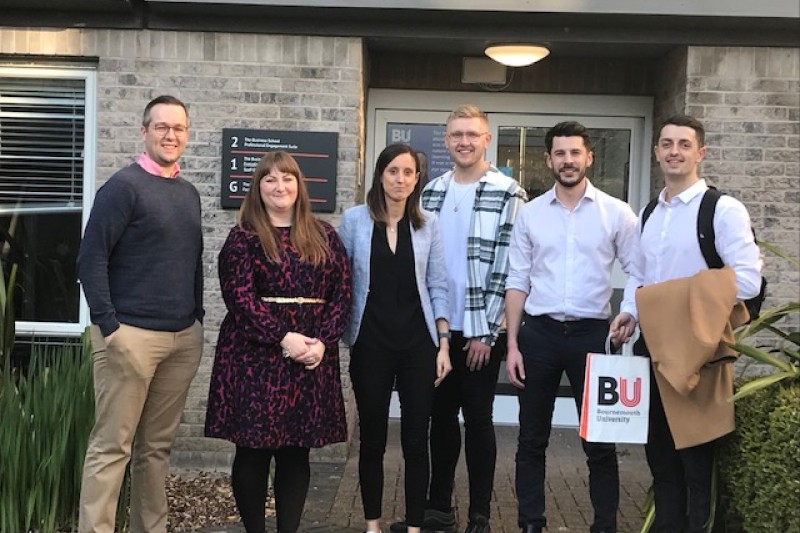 Through our long-standing partnership with AFC Bournemouth, two of the club's female managers were invited to sit on the panel to discuss their experiences as women leaders in a traditionally male-dominated industry.
Amy Marks, Strategic Partnerships Manager at AFC Bournemouth, said: "As a club, we're extremely proud of the partnership that we have with Bournemouth University, and so I was honoured to be a part of the Gender & Diversity Panel recently with students. It was a great opportunity to provide an insight into my role at AFC Bournemouth and share some challenges around leadership with a group of engaged students. Being in a position to offer support was rewarding on both a professional and personal level for me."
Dr Gilani added: "AFC Bournemouth has always been very supportive of our activity, particularly in relation to gender and diversity. As a traditionally male-dominated industry, hearing the stories of women leaders helps students to identify role models to aspire to and helps in developing an appreciation of diversity."
BU Business & Management (previously Business Studies) graduates who are interested in being part of the Alumni Panel can contact Dr Parisa Gilani for more.