Bournemouth University's Disaster Management Centre (BUDMC) has begun to collaborate with the Global Tourism Resilience and Crisis Management Centre (GTRCMC) to foster reciprocal projects and partnerships in tourism resilience with a focus on Africa and the Caribbean.
At a meeting held at the Jamaican High Commission in London on 27 April, Head of the BUDMC Richard Gordon and Professor of Crisis and Disaster Management Lee Miles delivered a letter of intent from BU that was duly signed by Jamaica's Tourism Minister Hon. Edmund Bartlett, co-founder and co-chair of the GTRCMC, which is based at the University of the West Indies (UWI).
The two centres will share academic and practical project development and implementation as well as data sharing, and analytics. The intention is that the collaboration will also facilitate opportunities between GTRCMC researchers and other centres of the University, most notably those dedicated to evaluating the challenges of tourism.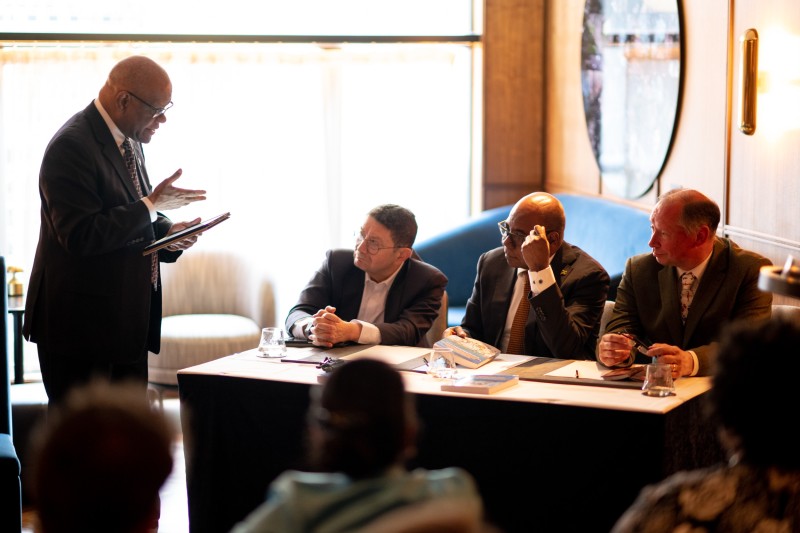 The need for the creation of a global tourism resilience initiative was one of the major outcomes of the United Nations' World Tourism Organization (UNWTO) Conference on Jobs and Inclusive Growth: Partnerships for Sustainable Tourism.
The GTRCMC has also published a book - Tourism Resilience, Recovery and Sustainability for Global Development: Navigating COVID-19 and the Future - which includes case studies, best practices and lessons learned during the pandemic as well as experiences of different destinations in working towards resilience. The co-editor of the book is Minister Bartlett.
Speaking at the UK launch of the book on 28 April in London, BU Professor Lee Miles said: "The impact of Covid-19 has demonstrated a pressing need to revisit many of the underlying assumptions that we have traditionally made about the durability and strengths of tourism and to connect debates between tourism and resilience more clearly."
The book also features emerging challenges that the tourism space will have to contend with in the future, including cybersecurity and crime, the dark web, and cryptocurrencies.
BUDMC provides world-class training and technical assistance in disaster management in order to help reduce risks, build resilience and ensure rapid and sustainable recovery when disasters strike.
The team has years of experience working in the UK and overseas assisting governments, ministries, NGOs and multi-national organisations with disaster and crisis preparedness, response and recovery. The BUDMC has for example, current projects working closely with African and Caribbean partners in 2022 that are delivering impacts on the ground.
The innovative nature of its research, education, professional practice work and training means the BUDMC is widely regarded as being at the cutting edge of disaster management.  BUDMC projects, for example, contributed to the success of the university in the recent 2022 THE Impact Rankings in meeting UN Sustainable Development Goals (SDGs).
For more information see www.budmc.uk