BU has signed a new partnership with bespoke sportswear brand EV2 Sportswear. Sports students, performance sport athletes, SportBU staff, and faculty staff will all be wearing the new kit at the start of the 2022/23 academic year.
EV2 Sportswear will provide sports kit for all of TeamBU, consisting of 60 teams across 25 sports and over 700 athletes. They will also provide bespoke kit for BU's sport degree programmes; BSc Sport Coaching, BA Sport Management, BSc Sport and Exercise Science and BSc Sport Therapy.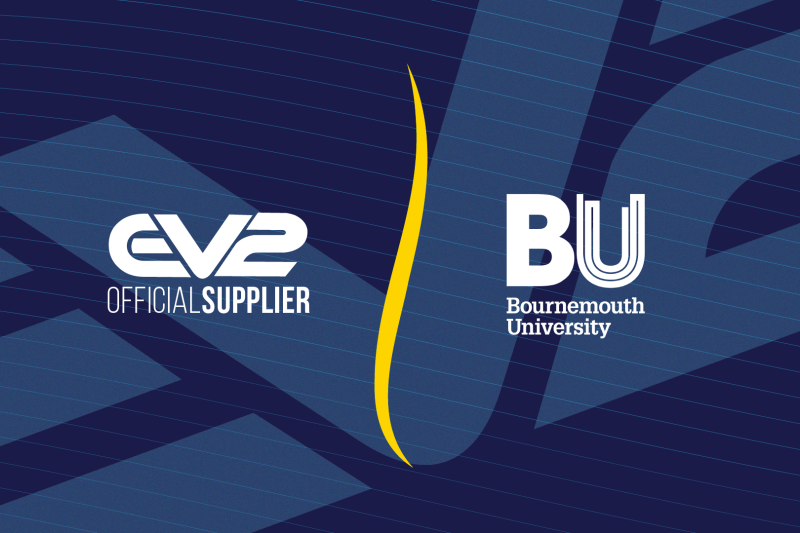 EV2 Sportswear offer high quality custom team and group apparel, with 40+ years of experience in sports apparel manufacturing.
Helen Palmer, Head of Sport and Culture said, "We are delighted to be entering this partnership with such a fantastic brand that is family run and based in the UK".
Gareth Moore, Managing Director at EV2 said, "We're absolutely delighted to welcome Bournemouth University to our ever-growing business. This partnership is recognition of the hard work and growth of the EV2 brand over the last 8 years. We've worked extremely hard to get to this point, and we are delighted to partner with such a big institution.
"We're looking forward to working with Bournemouth University over the next six years and using our UK manufacturing and eco-friendly materials to produce quality products for the university's staff and teams. Bournemouth University share the same vision and value as EV2 Sportswear on the quality of the products.
I want to give a special thanks to Rebecca and the EV2 team for the hard work that they've put in to get this partnership over the line and help take EV2 to the next level within the industry".
The majority of supplied playing kits will be made using a Recycled Polyester fabric, which is made from 100% recycled plastic bottles. This decision aligns with the sustainability values of both BU and EV2 Sportswear. These products will be manufactured from start to finish in the UK giving EV2 Sportswear full control of the whole process.  
As part of the contract, members of SportBU and Bournemouth University Business School (BUBS) staff visited EV2 Sportswear headquarters in Dewsbury to see their operation. Michael Barry, Student Sport Manager said after the visit, "It was a fantastic way to begin the partnership, to see shirts start on the screen and then be printed and made within an hour was incredible. The visit showed us the professionalism and pride that EV2 take in their work which was brilliant!".
Louise Hanlon-Brookes, Operations Manager within BUBS said, "It was a privilege to visit the team and factory of EV2. A great opportunity to see how the kit will be manufactured, understanding processes, but also building a great relationship with the team. Our students are going to love the new kit, will benefit from placement opportunities and I am excited that we have a kit provider who use sustainable materials and are UK based".
Students will get the opportunity to meet EV2 Sportswear at Freshers Fayre and welcome events for 2022/23. Follow TeamBU on Instagram @teambusport for more details.