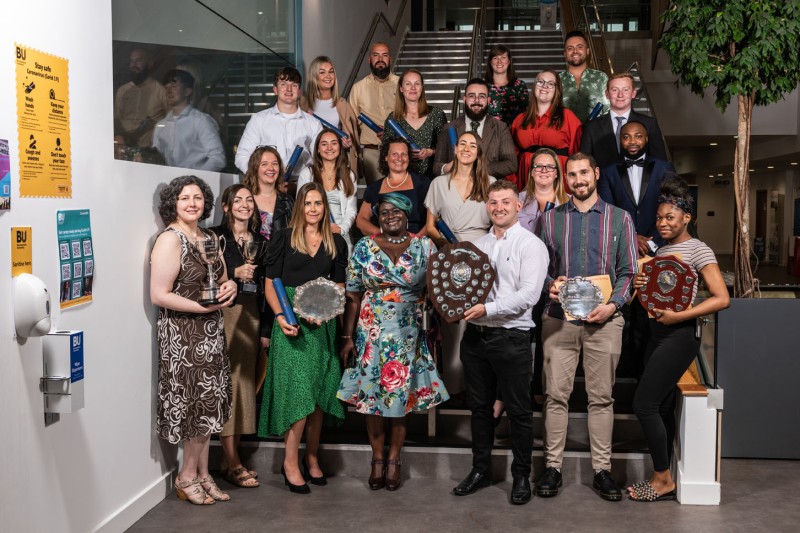 The achievements of final year students were recognised at the annual Faculty of Health & Social Sciences awards ceremony in June, 2022.  
The awards celebrate the hard work and dedication of students from across Bournemouth University's health and social sciences courses, with departmental and course-specific prizes being given among awards recognising compassionate care, exceptional leadership qualities, and achievement against adversity.  
Three students share their thoughts on what it means to them to be recognised for their respective awards. 
Georgios Romanakis, MSc Mental Health Nursing student said: "Receiving the Sarah Cheeseman Compassionate Care Award means a lot to me, as being recognised for compassionate care in a field devoted to helping others is a great honour. Sarah's husband told me during the ceremony that "compassion and empathy cannot be taught and that is the reason why this award is different". This award and feedback I have received from service users, will always remind me of the importance of compassionate care and that recognition of your hard work can motivate you to keep going, especially during the challenges the NHS is currently facing. The MSc Mental Health Nursing course has given me the opportunity to grow academically, and I will always use this knowledge to make a difference in service users' lives." 
Kelly Bateman, BSc (Hons) Paramedic Science student said: "I feel very honoured to have received the South Western Ambulance Service NHS Foundation Trust Prize. I wasn't expecting to win any awards for my time at Bournemouth University, so I feel very proud to have been recognised. I have really enjoyed my placements with South Western Ambulance Service and I have had an amazing experience with fantastic mentors. I couldn't have asked for a better 3 years, all things considered with the pandemic!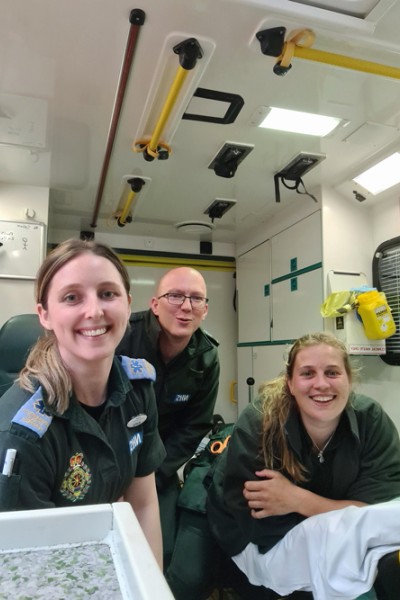 Coming from a full-time Combat Medic role within the British Army to study Paramedic Science at BU was a big step and change for me, but I have had a great experience and feel the foundation I'd built in the Army and continued developing at BU has led me to a great place to start my career as a Newly Qualified Paramedic. I send my thanks to all the staff at BU who have helped me over the last 3 years and I would recommend the course at Bournemouth University to anyone wanting to pursue a career as a Paramedic."  
Dale Gregory, BSc (Hons) Adult Nursing student said: My time at BU was a positive experience and even when my cohort was challenged by the demand and stresses of covid, A9 was always supportive and the academic staff where outstanding helping us all develop, grow, and succeed as academic students and future nurses. I was lucky to be nominated for The University Hospitals Dorset Outstanding Student Nurse Award, I never imagined I was even a thought in any awards let alone being lucky enough to receive this award."    
The awards were opened by BU Vice-Chancellor Professor John Vinney and the Faculty of Health & Social Sciences' Deputy Dean of Education and Professional Practice, Dr Sara White, and were closed by the Dean of the Faculty of Health & Social Sciences, Professor Anand Pandyan.
Dr Sara White said: "This awards ceremony is a fantastic occasion to celebrate the achievements of some of our students and recognise their hard work and dedication to their studies and future careers.
"I was heartened to hear stories of students who have continued to achieve despite adversity, as well as those who have excelled in their placement or academic work.
"We wish all our health and social sciences final year students' good luck as they embark upon their careers and look forward to hearing about what they go on to accomplish."
Full list of the winners:
The Dr Eleanor Bond Prize: Carly Reed
The Sports Therapy Bridge Health & Wellbeing Prize: Adele Young
The Sue Sutherland Prize: Emmanuel Asante Owusu
The Department of Social Sciences & Social Work Award: Samuel Cheshire
The Dorset Healthcare University NHS Foundation Trust Award: Sarah Stephens, Hayley Payne and Lyianna Maize
The Department of Midwifery & Health Sciences Award: Michelle Clark
The South Western Ambulance Service NHS Foundation Trust Award: Kelly Bateman
The Roger White Prize: Hannah Gurr (BA) and Natasha Foster (MA)
The University Hospitals Dorset Outstanding Student Nurse Award: Dale Gregory
The Phi Mu Chapter (England) Joint Award: Donna Cornelius and Georgina Manser 
The Sarah Cheesman Compassionate Care Prize: Georgios Romanakis
The Department of Nursing Science Award: Robyn Aggett
The Prudence Donaldson Wright Memorial Prize: Carly Reed
The Department of Medical Science & Public Health Award: Nina Rajska and Kerensa Thomas
The Dorset Council Award: June Symonds (BA) and William Smith (MA)
The Department of Rehabilitation & Sports Sciences Award; Thomas Jackson
The Lesley Milne Midwifery Prize: Verity James
The Sports Therapy Total Therapy Award for Excellence: Benjamin Horton
The Bournemouth University Social Work Award for Tenacity: Molly Booker
The Bournemouth University Student's Union Award: Nathan le Blancq, Charlotte Crutcher, Hollie Sanderson and Jessica Bolton of the Committee of the Pre-Hospital Emergency Care Society.
The Dean's Prize: James Pilbeam