Sports and Rehabilitation students at Bournemouth University are to have access a new range of courses training them in the science that goes into professional football coaching and management.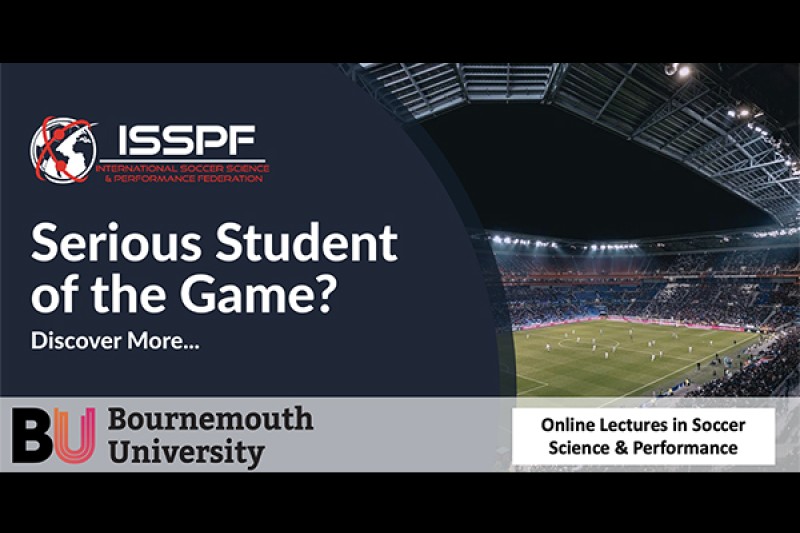 The courses will be provided by the International Soccer Science and Performance Federation (ISSPF), whose members include experts from the English Premier League, La Liga, German Bundesliga as well as elite level clubs and national teams.
As more elite level practitioners come into the game across sport sciences, coaching, medicine and physiotherapy, the need for new resources for teams to stay ahead of their rivals is vital.
The Department for Rehabilitation and Sport Sciences within the Bournemouth University (BU) have partnered with ISSPF to provide online football science and performance courses to their sports students and coaching staff. The training will be delivered by leading football professionals from around the world.
The courses will provide insights into the workings of team sport performance coaching, covering a range of subjects such as: 
Nutrition
Psychology & Mental Skills Training
Youth & Athletic Development 
Fitness & Conditioning
Tactical Analysis
Talent Identification
Goalkeeper Coaching Science
Injury Risk and Reduction
Amanda Wilding, who will oversee the collaboration between the two parties as placement lead, explained, "Bournemouth University are extremely excited and pleased to finally secure this partnership link with ISSPF. The partnership will provide our students & sporting communities the opportunity to access top-level educational content from football and academic experts across the globe through our growing department here at BU.
"As a sport science provider with links to the football industry, we pride ourselves on our relationships with industry experts and this link with ISSPF will allow us to further expand our learning options for our current students, coaches & alumni associates, who aspire to work at the highest level of the game. We are collaborating to provide numerous exciting resources with ISSPF in addition to continued professional development certification and short courses, as well as working towards an online masters program, that will provide coaches, sports scientists, physiotherapists, S&C staff, as well as medical practitioners with exposure to some of the leading methods and best practice globally. This is a fantastic initiative, and I am excited that Bournemouth University can contribute to the applied football education here in England."
An official announcement on behalf the ISSPF stated, "Partnering with the Department for Rehabilitation and Sport Sciences, in Bournemouth University shows another huge step for ISSPF as a recognised authority in football science and coaching. The development of football performance coaching individuals in England especially, as well as across the UK in general, is something we are pleased to commit to. Furthermore, the sustained growth in football science and importance it plays within the game is something we are keen to continue to play a leading part in. The opportunity to assist in the development of football coaching & team sport enthusiasts, practitioners, in addition to the students and learners around the local community, and the UK is one ISSPF are motivated to play a key role within.
"The provision of our bespoke online football science & performance courses, endorsed and accredited through various institutions and FAs globally, are currently being accessed by individuals around the world. We are proud to work together for the progression of all individuals interested in enhancing their applied knowledge, and career prospects through the academic pathway Bournemouth University provides. Our courses cover a range of coaching interests from grassroots, through to the semi-professional & elite professional coaching level, so are available to all."
Anyone wanting to find out more about the ISSPF online sport science courses, and the Bournemouth University endorsed ISSPF courses or partnership, can find out more at www.ISSPF.com and on Twitter, Instagram or Facebook.