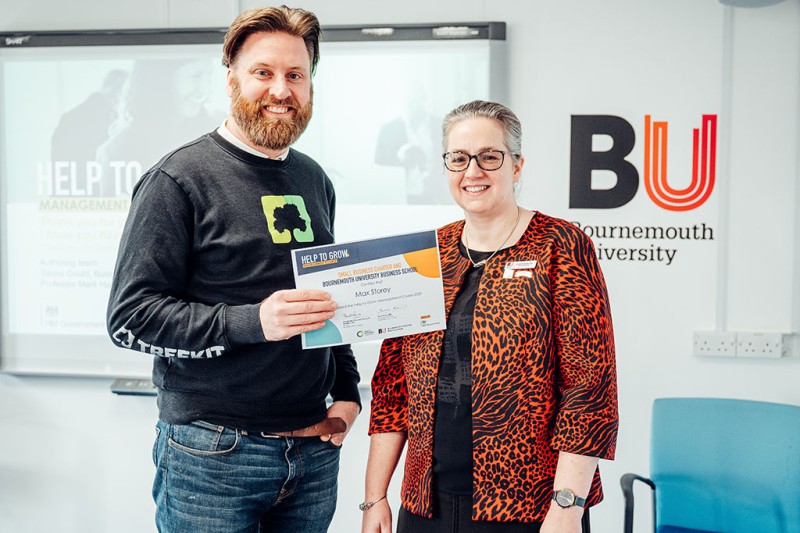 Earlier this year, Max Storey, Managing Director at Verwood-based business, Tree Kit Limited, completed the inaugural Bournemouth University Business School's Help to Grow: Management (HTGM) programme.  
The 12-week HTGM programme is a government initiative, which is 90% subsidised, aimed at senior leaders of small and medium businesses. It is taught at the Business School and provides business leaders with 50 hours of in-depth training, 1:1 mentoring, and the opportunity to develop a personalised growth action plan for their business.  
Max was part of the first HTGM cohort made up of 18 senior leaders with other businesses who were keen to work with like-minded leaders with the aim to grow their businesses. Since finishing the programme, Tree Kit has built on its success by developing innovative products which attracted the attention of an American company, Vertical Supply Group, who have acquired Tree Kit to help scale their business. 
Talking about how the HTGM programme had benefited his business, Max said: "Whilst all the course content was beneficial to me it was the module covering investment in innovation and research and development that really came into its own for me. Having invested in R and D and innovation as a business for some time, the HTGM helped me to better understand and ultimately realise the true value of our business in this transaction." 
Debbie Sadd, Senior Principal Academic in Strategy and Leadership, and one of the main academics delivering the HTGM programme said: "The programme has so many vital elements for business leaders to help them refocus and think about planning for the medium and long-term future. Often business leaders become so focused on the day-to-day operations, that they can't spend the time needed on the bigger strategic vision. Help to Grow is the ideal programme to facilitate this."