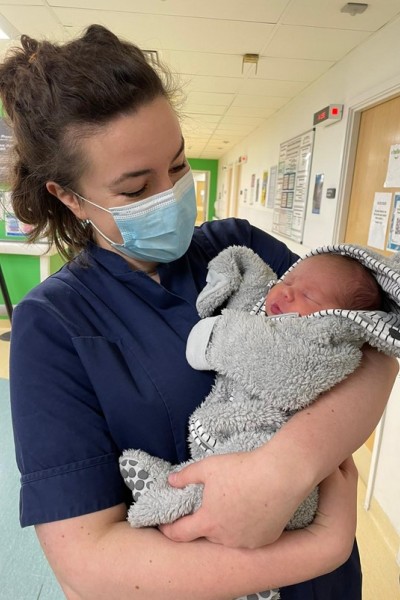 Anna Marsh
Anna Marsh, a midwife at University College London Hospitals NHS Foundation Trust (UCLH) and CMMPH student, has been awarded a prestigious HEE/NIHR Pre-doctoral Clinical and Practitioner Academic Fellowship (PCAF) to support her research into the use of social media in midwifery.
Building on her Wellbeing of Women scholarship, Anna will explore how best to support midwives to use social media to improve communication with women. Throughout her fellowship, Anna will be exploring how social media is currently being used in maternity services and identifying opportunities for improvement and future use. 
Anna's research on social media and midwifery is timely. Current research shows that women are turning to social media for advice and guidance in pregnancy, yet midwives have very limited involvement with it within their professional roles.
Working clinically at UCLH Anna has spent the last two years undertaking a Master's of Research at BU alongside her role as the Lead Midwife for the Antenatal Clinic. This research included a scoping review of nurses' and midwives' views and experiences of using social media within their professional role, as well as a content analysis of midwives' current use of the social media platform Instagram.
Findings were that nurses and midwives were largely fearful of using social media professionally, but that they used it a lot within their personal lives. Her research into the use of Instagram found that the 'most popular' midwives on Instagram posted a disproportionate representation of vaginal births when compared to known statistics about birth, as well as an over-representation of white women. The effect that this has on women is unknown and requires more research, but it highlighted the opportunity to improve how midwives are using social media to communicate with the modern-day woman.
This NIHR PCAF will enable Anna to further her research with the aim of creating a training package for midwives on how to use social media safely and effectively within their professional role. During her award, she will explore current practices of using social media within maternity services across the UK, as well as develop her own knowledge of social media research and the theoretical underpinning. In June 2023, she will attend the International Confederation of Midwives conference in Bali to present the findings of her work so far.